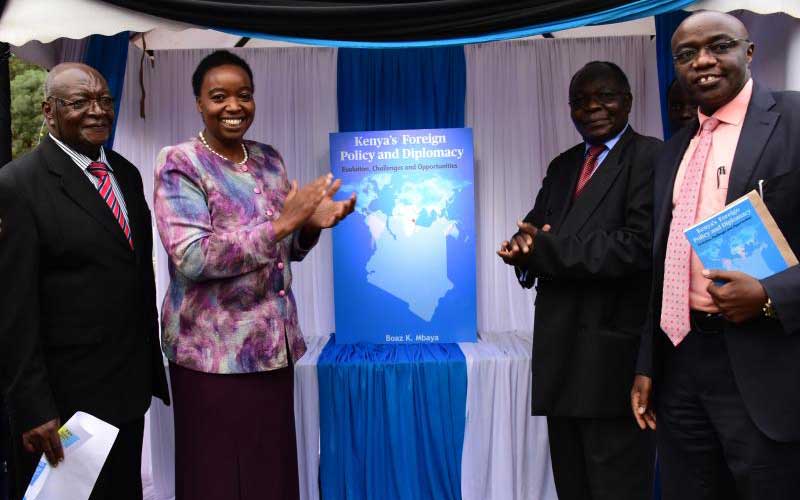 Kenya's current campaign for a seat in the United Nations Security Council has focused public spot light on its overall foreign policy and diplomacy. Consequently, publication of Ambassador Boaz Kidiga Mbaya's book on Kenya's conduct of foreign affairs is timely. He begins with an academic definition of the two concepts and their objectives. Foreign policy aims at securing national interests, while diplomacy is the management of international relations, or interactions between states, as guided by their constitutions. And these can be carried out through negotiations, coercion or use of force. Amb Mbaya notes that Kenya is of interest to the global community for a number of reasons. First, it is of geopolitical interest due to its location. For instance, Mombasa Port is a gateway to countries in Eastern Africa and the Great Lakes. Harambee moto
SEE ALSO: Kenya shouldn't let Africa down after UNSC victory
Secondly, Kenya's economy is the strongest in the region. And thirdly, Nairobi has emerged as an international transport and financial hub. Consequently, Kenya seeks to promote its trade and investments in the region by ensuring good neighbourliness, peace, security and stability. The author traces Kenya's political history from independence in 1963 to the present, indicating salient features that have shaped foreign policy. At independence, Kenya was regarded as a revolutionary state due to the Mau Mau war of liberation that broke out in 1952 and lasted to the 1960s.For Mzee Jomo Kenyatta, therefore, it was imperative to consolidate the newly won uhuru through nation building by harnessing local and international resources to revive the economy, development, and enhance political stability. He embraced racial and ethnic reconciliation as epitomised by the harambee motto, economic partnership as elaborated in the Sessional Paper Number 10 of 1965 on African Socialism and non-aligned foreign policy. But faced by realities of the Cold War, he chose to espouse a liberal economic model and largely sided with the West. And according to the author, although Kenyatta had little enthusiasm for active participation in foreign affairs, his foreign policy was largely successful, thanks to able ministers and civil servants. During the Moi era, Mbaya demonstrates that mediation and conflict resolution, or peace diplomacy, took centre stage in foreign affairs. To Moi's credit, he succeeded in his mediation forays in Chad, Ethiopia, Mozambique, Somalia, Sudan and Uganda. On succeeding Moi, Kibaki aimed at reviving the economy and adherence to the constitution, particularly respecting good governance and national values. But he, too, continued with Moi's policy of looking east to obviate over reliance on western powers.
SEE ALSO: Leaders laud Kenya's UN security seat poll victory
President Uhuru Kenyatta has carried the looking east policy a notch higher. His focus on economic diplomacy has witnessed a steady flow of investments, particularly from China. Mbaya is a veteran foreign service officer. From that vantage point, he shares with the reader his experiences, hopes and fears. He is also not shy of making solid recommendations. The book was published this year by East African Educational Publishers Ltd.