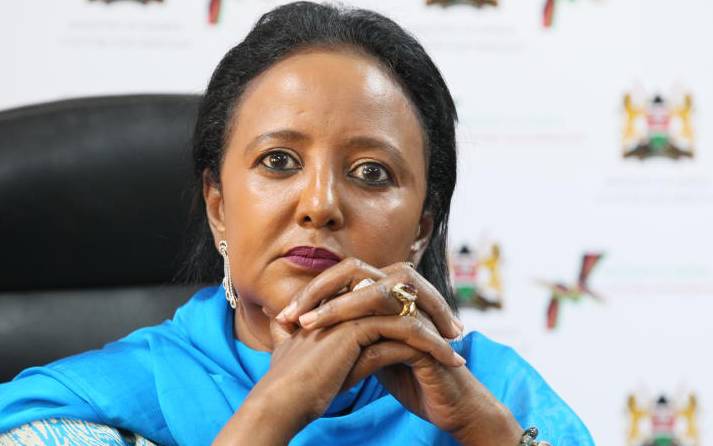 Nairobi
Legislators take minister to task over welfare of athletes. Amina says she is not to blame for her predecessor's mistakes.
Lawmakers yesterday accused Sports Cabinet Secretary Amina Mohamed of failing to support sportsmen participating in international matches. Also criticised was Sports Principal Secretary Kirimi Kaberia. Ms Amina and Mr Kaberia who were appearing before the National Assembly Sports Committee yesterday, looked on as committee members lambasted them for abandoning sportsmen who go to represent the country abroad. The MPs said the ministry had only perfected the art of sending congratulatory messages and receiving sportsmen at the airport when they win without facilitating them.
SEE ALSO: Ruto camp kept out of Uhuru meeting
The committee chaired by Victor Munyaka (Machakos Town) singled out Mr Kaberia for being a poor administrator in the docket. The criticism came after claims emerged that the national women's netball team spent nights out in the cold in South Africa because they could not afford accommodation.
Dismissed claims
Amina dismissed claims that her docket neglected the team, saying the ministry had even paid for their flight back to Nairobi yesterday night. "Information on social media was picked by the mainstream media. We shall give you a full report. But I want to say not everything in the mainstream media is gospel truth," said Amina.
SEE ALSO: Step by step, CS Amina commits to deliver upgraded stadiums
"I want to tell this committee that we worked hard to make sure they have their tickets on time. They are not stranded anywhere." Amina stressed that she should not be blamed for incidences that occurred before she was moved to the docket from the Education Ministry. MPs Dan Wanyama (Webuye West) and Christoper Omulele (Luanda) said it was not the first time the ministry was involved in a scandal concerning neglected sportsmen. The lawmakers asserted that on several occasions, the ministry has paid huge allowances to its staff so that they can attend sporting events without caring about the welfare of the authorities. "It is one thing to give tickets and another to provide accommodation and allowances to the sportsmen. This ministry is just a cartel out to swindle money," said Mr Munyaka.
SEE ALSO: Two Kisii MPs distance themselves from DP Ruto
Mr Omulele narrated how top ministry officials went to Morocco, a head of the Kenya Paralympics team, and failed to facilitate the team. "Your ministry officials were in Rabat a week before the event started and yet failed to facilitate the team. We will go to the extent that the law allows us to deal with this problem," said Omulele. The Paralympics team - composed of 54 athletes - had pitched camp at the sports ministry offices at Kencom, before moving to the sports commissioner's offices at NSSF building demanding its allowances. The athletes claimed they had not been paid allowances amounting to Sh80,000 each for participating in the International Athletics Meeting that was held in Marrakesh, Morocco. This is despite bagging 42 medals - 11 gold, 14 silver and 17 bronze. The committee also cited frustrations that the Kenya national amputees football team was also subjected to. The team was forced to wear Sonko Rescue Team jerseys at the 2018 World Cup tournament in Mexico.
Missing stadia
While defending himself, Kaberia said most of the scandals at the ministry happened when he was still serving as an ambassador. "When all these things were happening, I was an ambassador to Brazil," said Kaberia. The ministry also came under sharp criticism over the building of stadia that were promised by President Uhuru Kenyatta during the last poll campaigns. The MPs said there could be some fraud involved after it emerged that Sh88 million was paid to only clear bushes in Marsabit Stadium.