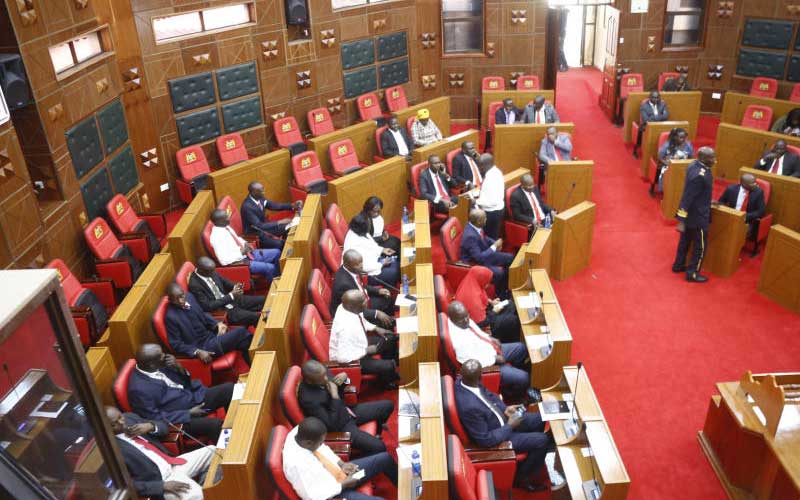 Rift Valley
MCAs are up in arms over a decision by the county government to centralise all procurement processes.
MCAs are up in arms over a decision by the county government to centralise all procurement processes. The ward representatives, who were aggrieved by the decision by Governor Lee Kinyanjui on Tuesday, suspended their normal afternoon sitting to discuss the development. They termed the decision as "a matter of urgent and serious concern to the county", and accused the governor of running a "one-man-show". They also took issue with Mr Kinyanjui's decision to appoint Samuel Wachira as the acting director of procurement, and elevating Grishon Githiomi Nono to deputise him in the department.
SEE ALSO: COVID-19: Nakuru MCAs risk lives to meet over Sh14,500 allowance
Moving the motion to suspend the normal sitting, Mariashoni MCA Douglas Ayabei said the decision to centralise all procurement processes was also against the Public Finance Management Act. "We cannot continue sitting pretty and silent, watching the governor act as if the assembly doesn't exist or we don't know our role. Policy matters have to be approved by the assembly and his actions were rogue," he said. He added that the county assembly would not be used by the executive to rubber stamp decisions that are against the law. Mr Ayabei said the appointment of Mr Wachira in an acting capacity was a blunder that might cost the county. "Wachira is a new employee. How and when was he recruited to join the county government?" he asked.
SEE ALSO: Farmers turn to mobile apps as traditional markets shut down
Two officials
On September 11, Kinyanjui, through his communication director Beatrice Obwocha, announced the appointment of two officials as director and deputy director for public procurement. In his communication to the media, he said Wachira was replacing Kevin Gitau in acting capacity. Dundori MCA Michael Machembu termed the move unconstitutional, and likely to jeopardise county operations and follow up on procurement queries. "The law provides that chief officers in respective departments answer queries on procurement matters," said Machembu.