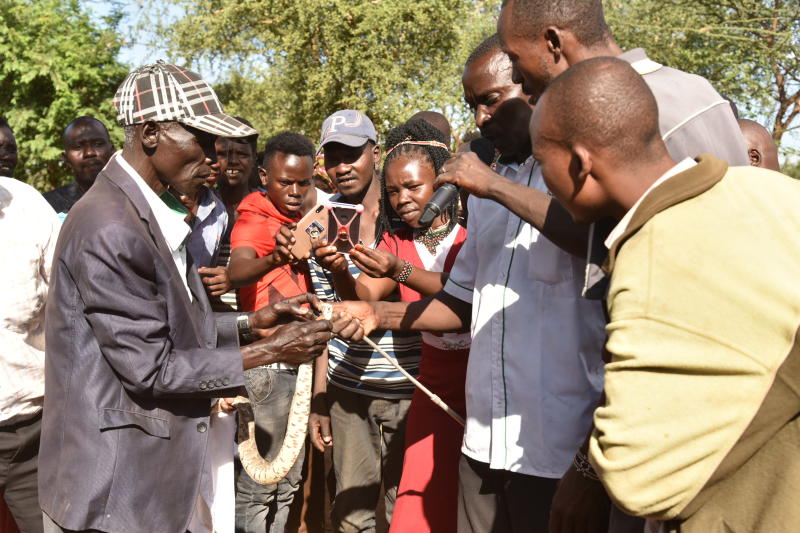 Rift Valley
Ministry of Health and medical organisations have come together to sensitise residents on management of snake bites.
Chebet Lagat lives in fear, and any hissing sound around her startles her. When this happens, her father Patrick Kigen is quick to act, and swiftly checks on the seven-year-old. His little girl is traumatised, having been bitten by a venomous snake that left her left arm paralysed. "My daughter is traumatised, she was bitten by a snake in 2015 and I have to keep an eye on her all the time," Kigen says. The Standard Two pupil at Emsos Primary School in Baringo South was sleeping when a cobra slithered into her bed, biting her tiny wrist.
SEE ALSO: Can you become lactose intolerant as an adult?
Kigen tied the arm with a piece of cloth and after killing the snake took his child to Marigat Hospital, 50 kilometres away. On arrival, medics said that it was too late and the venom had spread to the entire arm, which is now paralysed. Kigen's family is not the only one which has to live with a traumatised child. There are many families who bear the brunt of snake bites. For Jackson Kiplagat, snake attack came in double portion, for he lost his two-year-old daughter Scolla to death and his seven year old Chepchirchir became paralysed. The two children were attacked by a black mamba on the night of June 18, 2015. Chepchirchir was bitten on the arm and Scolla on the nose.
SEE ALSO: Why you need to include fibre in your diet
"I tied a piece of cloth around Chepchirchir's arm to prevent spread of the venom to her body, and placed herbs on Scolla's wound. Soon, her body swelled and within minutes she was no more," Kiplagat says. Chepchirchir was operated on at Marigat Hospital and later transferred to Moi Teaching and Referral Hospital in Eldoret for further treatment.
Sensitise the community
According to a medical report seen by the
Saturday Standard
, the boy developed renal failure, cortical blindness and limb deformity. Several people have been paralysed, have had their limbs amputated and many more have died in the region following snake bites.
SEE ALSO: Four reasons why you need more intimacy
At least 300 to 500 cases of snake bites are reported monthly in the county. As mitigation to rampart cases of snake bites, Ministry of Health and medical organisations including Médecins Sans Frontières (MSF) and Kenya Snakebite Research and Intervention Centre (KSRIC) have come together to sensitise the community on prevention and management of snake bites. County Chief Officer of Preventive and Promotive Health Winnie Bore says community health volunteers act as link persons between the community and hospital. The community is trained on how to administer first aid on patients before taking them for specialised care in hospitals. "Locals are trained on different snake species and mode of first aid to be issued," Dr Bore says.
SEE ALSO: Join us in empowering women to take charge of their reproductive health
At least 154 community health volunteers in high burden snake bite areas were also trained on prevention of snake bites and management. At least 233 health workers manning various hospitals have also been trained on how to manage snake bite victims, administer anti-venom and safe treatment. The training of health workers and community health volunteers was done in April, May and June in high risk areas of Tiaty, Mogotio, Eldama Ravine, Baringo Central, Baringo North and Marigat. The main challenge in handling snake bite cases, according to Department of Health has been traditional beliefs, with some people thinking that a snake bite is a curse and should be treated by herbalists. The traditional herbalist cuts around the wound and places a black stone they believe will remove the venom. Some suck the wound to remove the venom and when it does not work, they take the patient to the hospital and at times, it is too late. "It is worrying that traditional beliefs are still an issue that hinder healthcare," Dr Bore says.
SEE ALSO: What you need to know about induced labour
A data collection tool has been developed to record cases of snake bites, and the data will be shared with the Health Ministry and relevant medical agencies for action.
Accurate figure
MSF Medical Activity Manager Wangari Wanguru says the tool, known as Snake-Patient Care will help in collating accurate figure on snake bites. Data to be keyed into the tool include areas where snakes are prevalent, time taken for a victim to receive specialised treatment, type of anti-venom used and reaction to it. Cecilia Wairimu, a nurse working with KSRIC says common snakes in Baringo are the black mamba (whose venom affects the nervous system), the puff adder and carpet viper. "It is important for the community to know what contributes to breeding of snakes and how to keep them at bay," Wairimu says. KSRIC is also studying venom from different snakes collected in snake prone counties across the country to help in developing an antivenom that is more affordable and effective.