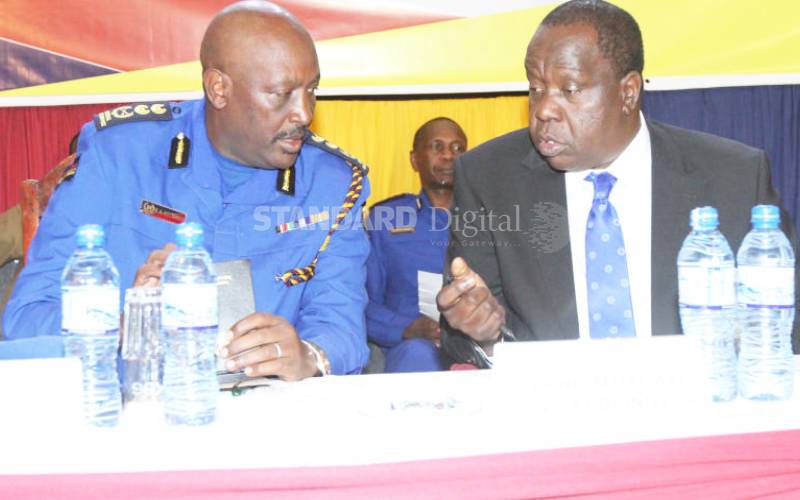 The National Police Service will spend Sh377.6 billion in the next five years to revamp operations and modernise its structures. A four-year strategic plan unveiled in Nairobi last week lists seven objectives the service seeks to meet by end of 2022. Unveiling the strategic plan, Inspector General of Police Hillary Mutyambai said the first objective will be to enhance logistical, operational and investigative capacity of law enforcement agencies. The service is expected to spend Sh214 billion to enhance logistical, operational and investigative capacity of the service.
SEE ALSO: Is Kanu and CCM reversing DP Ruto's gains in the Rift?
The expenditure is broken down to Sh47.9 billion in the 2019/2020 financial year, Sh44.3 billion in 2020/2021, Sh42.8 billion in 2021/2022 and Sh40.8 billion in 2022/2023. Some Sh5 billion will be spent on increasing CCTV coverage in Nairobi, Mombasa and satellite towns, while Sh10 billion will be used to install cameras in Kisumu, Eldoret and Nakuru. The strategic plan seeks to spend Sh8 billion to equip a police forensic lab while Sh50.9 billion will go into the acquisition of assorted security equipment and kitting. Some Sh20 billion will spent in the construction and equipping of a police referral hospital while Sh3 billion will go into upgrading the Directorate of Criminal Investigations (DCI) academy. During the four year period, the police will acquire 6,000 assorted vehicles, 1,500 motorcycles and 20 boats at Sh45 billion.
SEE ALSO: Battle of wits and tactics as Uhuru and Ruto eye 2022
Construction, refurbishing and equipping of police stations, camps, posts, stores and residential buildings will cost Sh18 billion while new structures for Critical Infrastructure Police and Border Patrol Units will cost Sh600 million. Some Sh7 billion has been set aside for the construction of a model police station in every county. The service plans to boost the capacity of its air-wing at a cost of Sh10.5 billion. Most of the funds will go to acquisition of new aircraft as well as recruitment and training of personnel. Installation of CCTV cameras at all police stations will cost Sh500 million while recruitment of 1,000 new investigators and forensic experts is expected to cost Sh5.5 billion. The service also plans to develop and implement a new intelligence model at Sh200 million while mainstreaming of human rights and gender issues in policing will cost Sh800 million. Mr Mutyambai said plans are underway to decentralise the operations of the police's internal affairs unit even to enhance relations with other stakeholders.