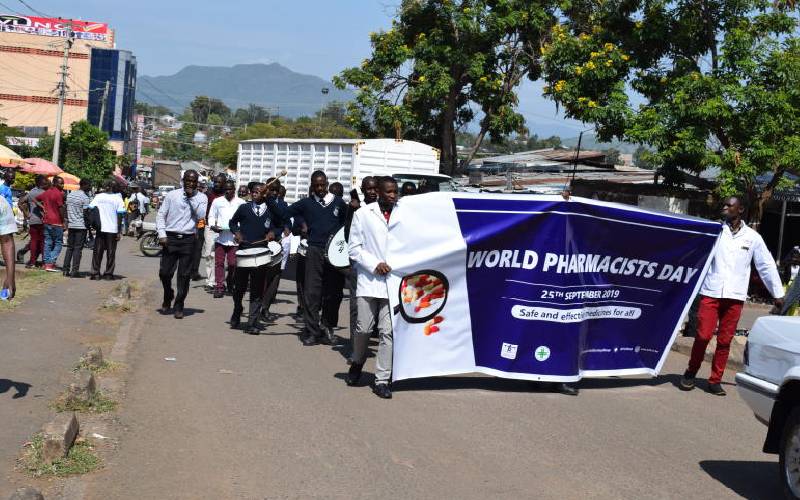 Homa Bay county has begun a crackdown on fake pharmacists and chemists selling substandard drugs for unsuspecting members of the public. According to county's health chief officer Gerald Akeche, the operation led by county health department officials and security officers will eliminate quacks and unregistered pharmacists in the county. "It requires a concerted effort to ensure pharmacists work with security offers and ensure we weed-out people behind the menace," he added. Medical practitioners in the county have blamed the rising cases of health complications experienced by locals on high numbers of "fake" pharmacists in the county.
SEE ALSO: 35 children held over alcohol, sex orgy
Led by Akeche and Pharmaceutical Society of Kenya (PSK) liaison officer in the county Ben Otieno, the medics said some people have lost their lives due to wrong prescription of drugs. Speaking during celebrations of World Pharmacists Day in Homa Bay town. Akeche said the county is aware of many quack pharmacists operating in the entire Southern Nyanza region exposing locals to the fake drugs, but vowed to deal with them. "Some patients have developed resistance to drugs due to use of counterfeit drugs obtained from unqualified pharmacists. This has caused a lot of harm to the society," said Akeche. The chief officer told pharmacists to be weary of quacks who taint the image of their profession. The celebration was organised by Pharmaceutical Society of Kenya covering Southern Nyanza Branch comprising Nyamira, Homa Bay, Kisii and Migori counties.