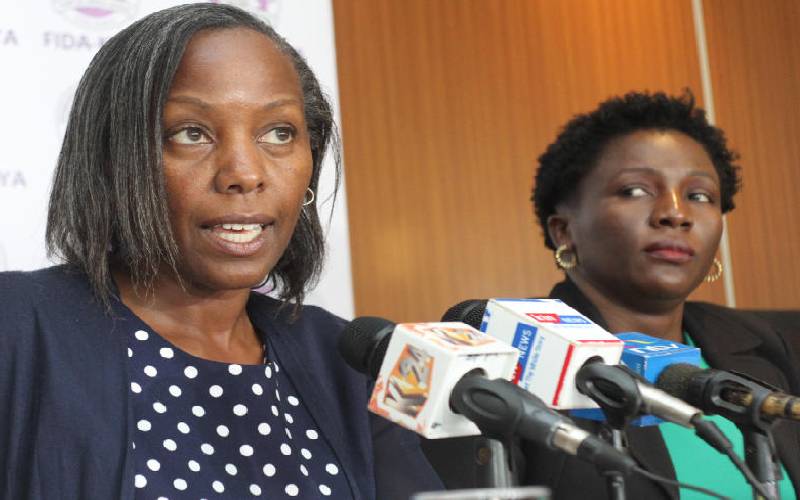 Commentary
It is estimated that seven women die every day in Kenya from unsafe abortion.
Nine years ago, the country was embroiled in an intense debate over whether to ratify the then draft constitution or not. The opposition to its passage was led by religious groups against the provision that would allow pregnant women to access abortion when a trained health professional deemed their life or health to be in danger. The groups argued that Kenyan women would now access abortion anytime, anywhere and the procedure could be performed by any hospital worker. The Kenyan people, however, on August 4, 2010, passed the Constitution with a resounding 67 per cent in favoor of the ratification. According to the Constitution, abortion is not permitted unless, in the opinion of a trained health professional, there is need for emergency treatment or the life or health of the mother is in danger, or if permitted by any other written law. Despite the expanded constitutional grounds under which women are legally entitled to an abortion in certain cases but under a trained health professional, some religious groups are once again reverting to spreading false information to the detriment of the health and safety of women and girls.
SEE ALSO: Government should save dairy sector threatened by the coronavirus
This is despite the fact that lack of access to education and information about sexual and reproductive health and rights contributes to women and girls dying from unsafe abortion in Kenya every day. It is estimated that seven women die from unsafe abortion every day. In a study by African Population and Health Research Centre (APHRC) and the Ministry of Health (MoH), over 450,000 women had an abortion in Kenya in 2012. Of those, nearly 120,000 were admitted to public health facilities with severe complications. The study also found that the cost of treating complications arising from unsafe abortions in public facilities in Kenya in 2012 was almost Sh500 million. These findings highlight the significant financial burden of unsafe abortion in Kenya. The story of JMM paints a grim picture of what women and girls go through in the hands of quacks who offer unsafe abortion services. When she was 14-years-old, she got pregnant after she was raped by an older man in her village. Like many adolescents, she was unaware of the support she could get as a survivor of sexual violence. She followed the advice of a friend who referred her to a quack to procure an abortion. Unfortunately, she received a botched abortion and immediately fell sick.
SEE ALSO: A number of people who tested positive for Coronavirus gave wrong contact information
What ensued next was a tragic sequence of events precipitated by JMM's lack of access to education and information on reproductive and sexual health and the failure of the health care system to come to her aid after the botched abortion. JMM did not receive timely or adequate care, was transferred from one health facility to another, none of which had the capacity to provide her with sufficient post-abortion care. As a result, she developed chronic kidney disease which led to her death at only age 18. Consequently, the Centre for Reproductive Rights, filed a case on behalf of JMM and her mother PKM, arguing that the State was culpable for JMM's health complications and ultimately her death, due to their failure to ensure the accessibility of safe abortion and post-abortion care. Specifically, the centre challenged the Ministry of Health's withdrawal of the Standards and Guidelines for reducing morbidity and mortality from unsafe abortion, which had been adopted to provide trained health care professionals with information on how to prevent unintended pregnancies and when and how they could legally offer abortion services and deal with emergency cases. The withdrawal was followed by a memo that directed all health professionals not to participate in any training on abortion and that if they did, they would face dire legal and professional consequences.
SEE ALSO: Youth more stressed by coronavirus effect: report
While nothing will ameliorate the grief that JMM's family and friends live with after her death, the landmark decision handed down by the High Court just a few weeks ago gives JMM, in death, the justice and dignity she did not receive in life. In addition to awarding JMM's mother compensation in acknowledgement of the State's failure to protect her daughter, the five-judge bench also affirmed the legality of abortion when the life or health of a pregnant woman is endangered. The judges also invalidated the Ministry of Health's withdrawal of the Standards and Guidelines on abortion and the trainings on safe abortion care for health care providers. JMM's story is not unique, but is a reflection of a broken healthcare system that has failed to protect Kenya's most vulnerable. Women and girls like JMM have not been dying of untreatable diseases, rather their deaths are due to stigma and lack of full implementation of existing laws that prevent them from accessing quality reproductive health care services. The judges should be applauded for standing up for women by bringing back into force the Standards and Guidelines as well as the court's explicit recognition that abortion is constitutionally permitted when a trained health professional finds that a pregnant woman's mental, as well as physical health, is threatened. This is a huge step in addressing maternal mortality in the country and will save the lives of thousands of women.
Mr Opondo is Senior Regional Director for Africa Centre for Reproductive Rights
SEE ALSO: Covid-19 has adversely affected the youth, AMREF says