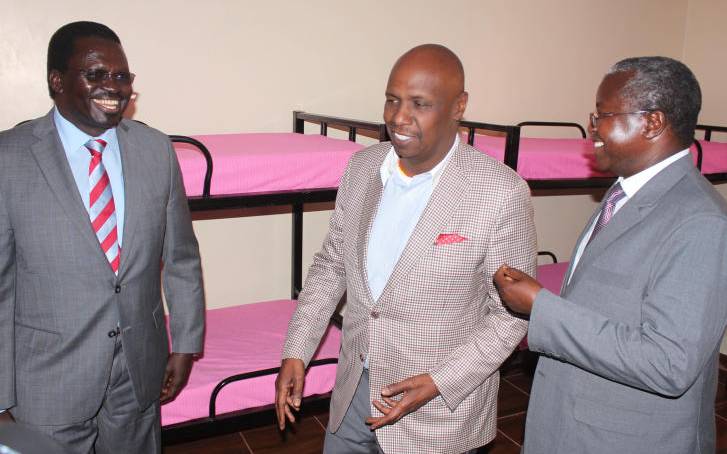 Rift Valley
Baringo Senator asks county youth to take advantage of a Sh200 million kitty in his office to boost their businesses.
Baringo Senator Gideon Moi has asked parents to ensure their children get a quality education. The Kanu chairman termed good education as a basic need in today's world. "Enroll your children in school. Let them get educated. That is today's world bullet and rifle," said the Senator when he commissioned a 160-bed dormitory at the Sacho Primary School in Baringo, yesterday. He urged parents and the youth to take advantage of a Sh200 million programme his office has initiated to empower young people and enhance their businesses. "Visit my office in Kabarnet and you will be advised of the requirement," he said.
SEE ALSO: Eyes on Gideon following revamped Kanu-Jubilee deal
The money is part of a national government pilot-project to empower youth at the counties. Terming the school's expansion a dream come true, the Senator said the mixed institution is putting up infrastructure to ensure it provides excellent and quality education. "I am glad to be here to officiate the opening of the dormitory. This serves a landmark for this institution and a fulfillment of a dream," he said. Gideon said they have big dreams for the school, which began in 2013. He said they will ensure the school not only serves the local community but the greater Kenya.
Independent personality
Gideon was accompanied by Kabarak Vice Chancellor Henry Kiplagat, Sacho High School Trust General Manager Richard Moindi and the school's headteacher Edwin Kiptui.
SEE ALSO: Changes in Jubilee boost for Gideon in Rift political battle
Mr Kiptui thanked the board of directors for their support towards the establishment of the dormitory. "Day scholars will now have adequate time to study. Once they reside in school, they will concentrate more in their studies," said Kiptui. The headteacher asked the students to express their gratitude for the new facility by working extra hard in their studies. Dr Moindi said they are confident that the facility will be key in assisting the school achieve its dream of being a centre of excellence. Sacho's mission is to provide quality education that is competitive and geared towards developing an independent personality, he said. Prof Kiplagat thanked former President Daniel arap Moi for his contribution to education.