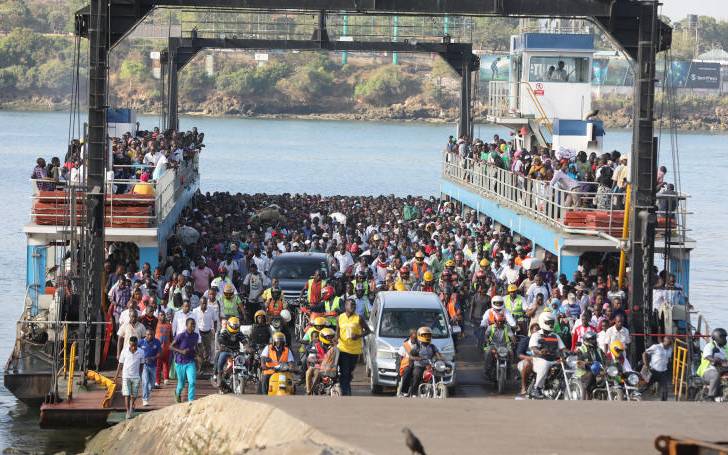 Coast
Loan to be repaid for 28 years after Kenya secures a 12-year grace period.
The coastal city of Mombasa is headed for a major facelift that will shake off the "dying city" tag following the signing of a Sh88 billion deal to rejig it. From an imposing super bridge that will demobilise the creaky ferries at Likoni channel to new access roads, electricity, water supply and drainage facilities, Mombasa is set to roar back to life. Yesterday, Kenya and Japan signed an agreement that will see Kenya receive official development assistance (ODA) amounting to Sh88 billion for both Mombasa Gate Bridge and Dongo Kundu Special Economic Zone project. The bridge alone will gulp half the amount, Sh46 billion, while the rest will be used to improve facilities in the economic zone.
SEE ALSO: AIC lists measures that will be introduced when worship resumes
Besides these two, beautification of the seafront is ongoing and expected to improve tourism credentials of the city. Acting Cabinet Secretary for National Treasury Ukur Yatani and the incoming Japanese ambassador Ryoichi Horie signed the deal.
Major undertaking
The bridge, Mr Yatani said, will help improve trade and tourism at the Coast, besides assuring the safety of residents who have had to contend with numerous mechanical hitches while riding in the ferries. "I wish to take this opportunity to thank the Government of Japan for providing the loan credit for the two projects under very high concessional terms," Yatani said.
SEE ALSO: Uhuru had every reason to kick out party rebels
The loans will attract an interest of 0.1 per cent and will be paid in 28 years. Kenya will also start repaying the loan after a grace period of 12 years. The bridge will take six years to construct. "It is a major undertaking and we are now going to have a permanent solution that will not only be desirable but welcome at all times," said Yatani. Ambassador Horie said Japan's ODA in Kenya started in 1963 when the country got independence, with the Coastal region a major beneficiary. "The growth and development of Mombasa has a special place in the long and amicable history of the ODA from Japan," said Horie. Over time, the assistance to Mombasa from Japan has included a loan for the development of a jetty, a cold storage and related facilities at Liwatoni.
SEE ALSO: Bromance, then boom: The parallels
Others are the expansion of Moi International Airport, the construction of New Nyali Bridge and New Mtwapa Bridge. Transport Principal Secretary Paul Maringa said the next step will be for the ministry of to procure consultants to oversee the construction of the project. The designs for the bridge have already been done, with work expected to begin in 2021. The feasibility study is now complete after three years. The Dongo Kundu Project is expected to employ about 27,100 people when it becomes fully operational. "It is expected that many companies, engaged in various manufacturing activities, will take advantage of the opportunities created by SEZ," said Horie who will be visiting Mombasa in the first week of October to see the project sites.
SEE ALSO: Governors seek Sh5b to fight Covid-19
He will also meet local political leaders during the tour. Mombasa is an important gateway not only for Kenya, but also for the entire East Africa region, through the Northern Corridor. Other Japanese projects in Kenya include Jomo Kenyatta University of Science and Technology, the Kenya Medical Institute, Construction of Missing Links Project and Embu Water Supply. Others currently under construction include Olkaria IV Geothermal Power station and expansion of the Mwea irrigation scheme. Until 2013, Japan was Kenya's leading bilateral partner. However, the decision by President Kenyatta's Government to hand China the Sh400 billion Standard Gauge Railway project, saw it race past Japan.
SEE ALSO: Has President Uhuru's Executive Order abolished joint Presidency?
Japan, whose debt stock increased by Sh49 billion to reach Sh132.2 billion, remains a distant second.
Bounce back
The country – which recently hosted African Heads of States, including President Kenyatta, for the seventh Tokyo International Conference on African Development (Ticad VII) – has been scheming for a way to bounce back since China trounced it as Kenya's leading bilateral lender. It has been promising to bring what it describes as "high-quality infrastructure to Africa" as it moves to leverage on its superior technology and industrial development compared to China. During the Sixth TICAD that was held in Kenya in August 2017, an agreement entered by the Japanese government and that of Kenya, Tanzania, Ethiopia and Mozambique promised "high quality" infrastructure. The four-point understanding was intended to commit the infrastructure ministers to contract Japanese firms in their respective countries, which are currently dominated by the Chinese.