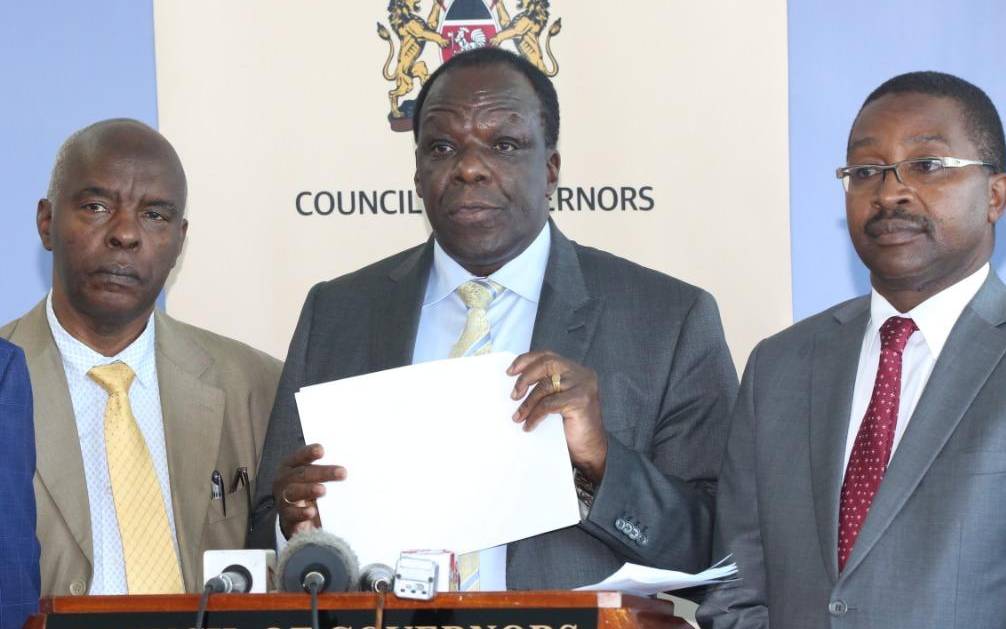 The Council of Governors has launched a constitutional amendment campaign they are calling Ugatuzi Initiative to change the structure of the Executive structure representations in various levels of government. In a governors' meeting in Westlands, Nairobi, convened by the CoG chair Governor Wycliffe Oparanya, they proposed constitutional changes which will see the restructuring of the Executive from the National Government to the Counties. In attendance was also to which the County Assemblies Forum. According to the CoG, if effected, the changes will strengthen devolution.
SEE ALSO: Call to lower electricity tariffs for water firms
Part of their said: "The main focus of the Ugatuzi Initiative is to ensure Counties get more resources and give Counties more financial autonomy." It advocates the reintroduction of the post of prime minister in the Executive. "The Council supports a national executive comprising of the President as Head of State, Deputy President, Prime Minister as Head of Government and two Deputy Prime Ministers." The CoG proposes a system in which Members of Parliament are selected as ministers and assistant ministers, a throwback to the pre-2010 political system. On this account, the Ugatuzi Initiative Bill proposes 18 ministers and 22 deputies.
SEE ALSO: Governors are not special, say MCAs
Part of the changes in the proposal is to have a strong Leader of the Opposition with a shadow cabinet. On the appointment of the members of the Cabinet, governors propose a system where each county has a representative in the Government as a minister, deputy minister or principal secretary. They propose the Office of the Attorney General "to be independent and have the security of tenure. [and] Counties to have their own County Attorney and Law Office. Each County to have its own County Gazette," states CoG in point-form.
Revenue sharing
The bill has also recommends that the revenue allocated to counties be capped at not less than 45 per cent of the national budget.