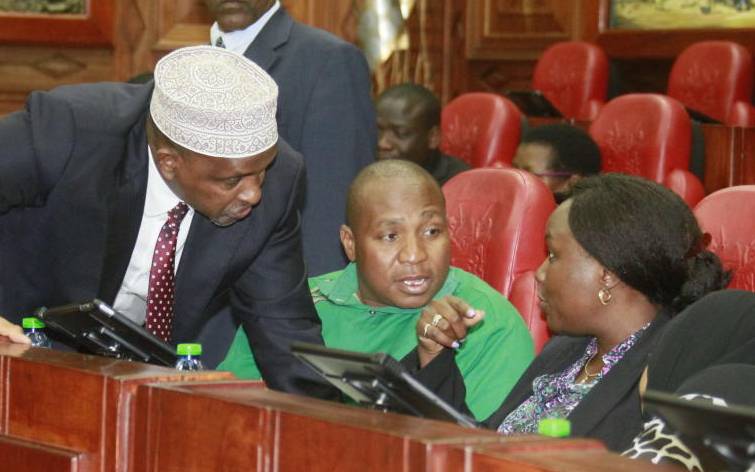 Nairobi
MP Aden Duale alleged that the senate team, chaired by Homa Bay Senator, Moses Kajwang is yet to indict a single governor in the reports.
Members of the National Assembly yesterday sensationally claimed that their senate counterparts have been cutting deals with governors to give them clean bills of health on queries by the auditor general. In the latest twist to supremacy battles between the two houses of Parliament, the lawmakers said that those backroom negotiations take place before governors appear for questioning by Senate oversight teams. They particularly took issue with Senate Public Accounts and Investments Committee, which the MPs claimed has been treating the county bosses with velvet gloves, giving them a soft landing even in the face of serious queries by the auditor. Leader of Majority, Aden Duale alleged that the senate team, chaired by Homa Bay Senator, Moses Kajwang is yet to produce a single report indicting a sitting governor.
SEE ALSO: Yatani's tight options as he delivers first budget next Thursday
"I want to see even one report where the PAC team has indicted a single governor. They have never produced a single report to this effect. Why it is that they have been indicting Cabinet Secretaries and not governors? I'm told that there is a small room where people meet before they come to the committee," said Mr. Duale. Nominated MP David Sankok said the senators meet at a 'club' where deals are sealed before the county bosses make wake their way into committee rooms for grilling. "Before governors appear for grilling, they pass through a certain club where negotiations take place," claimed Ole Sankok The allegations were made during the debate on the county allocation of Revenue Bill, 2019. The bill allocates money to the devolved units.
SEE ALSO: It's not over as MPs now train guns on Duale
Finance committee Chairman, Kimani Ichungwa (Kikuyu) warned that the camaraderie between senators and governors is a threat to devolution, which the Senate is mandated to oversight. He claimed that 'the dishonesty among senators is amazing,' and that it is slowly compromising accountability at the grassroots level. 'They (senators) claim to be protecting devolution but they are the ones killing it. As members of the National Assembly, we should not play with the lives of Kenyans. Senators should stop playing politics with county funds,' said Mr. Ichung'wa. The latest onslaught has been fueled by the ongoing mashinani trip to Kitui County by the senators. The tours have been touted as key in public understanding of the senate's work. Lawmakers argued that the senate Mashinani trips are a waste of public funds and part of the unhealthy friendship between governors and senators.
SEE ALSO: Duale spared after Jubilee Parliamentary Group Meeting