Politics
Politicians recount fond and bitter memories of old party base that has been synonymous with Raila-led outfit.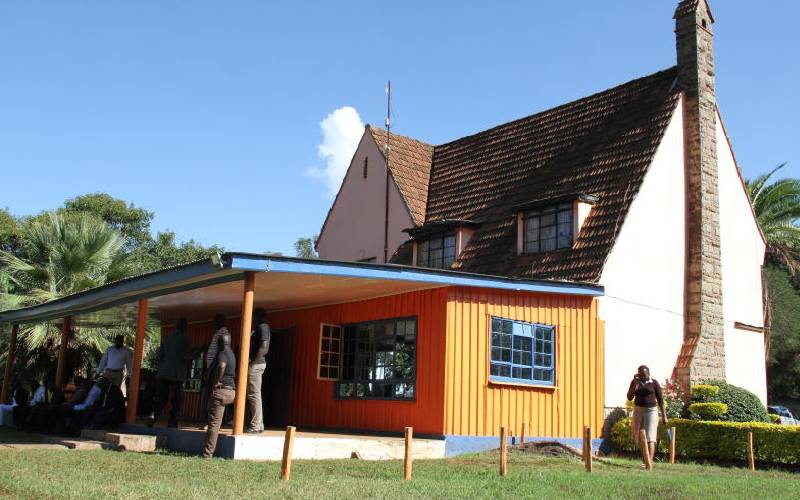 The Orange party yesterday moved to its new Sh180 million headquarters in Lavington, Nairobi, ending a 12-year tenure at Orange House headquarters in Nairobi's Kilimani area. The Orange House (pictured), located on Menelik Road, is owned by party leader Raila Odinga's former aide Caroli Omondi. It is an address that had become a defining feature in the politics of Kenya, where political careers were built and others destroyed, in particular during the hotly contested party nominations. Past and present politicians have fond and bitter memories of the house, with some declining to say much.
SEE ALSO: Raila Odinga protests probe against bank executive
Apart from Raila, ODM has links with other senior politicians such as Deputy President William Ruto, former Nandi political heavyweight Henry Kosgey, who was once the party's chairman, Bomet Governors Isaac Ruto and the late Joyce Laboso, as well as former Aldai MP Sally Kosgey. Majority Leader Aden Duale was also once an ODM MP, as was former Budalang'i MP and current Foreign Affairs Cabinet Administrative Secretary Ababu Namwamba.
Najib Balala
Others are former Gachoka MP and presidential aspirant Joe Nyagah, current Tourism Cabinet Secretary Najib Balala, the late William ole Ntimama and the late Kipkalia Kones, former Bureti MP Franklin Bett and Margaret Kamar. Mr Duale acknowledged that the Orange party was still one of the strongest in the country and that it had been synonymous with the Orange House.
SEE ALSO: Tactical retreat or slow surrender: What next for DP Ruto after purge?
"ODM and Jubilee are the strongest parties in Kenya now. I was a member and I have memories of its former headquarters. But some of us left because of intolerance," Duale said. He said the party should also chart a new path, where it conducts its affairs without violence and carry out fair nominations. Former National Assembly Speaker Kenneth Marende had fond memories at the party headquarters and noted that during his time, he handled disputes fairly, unlike they are today. "We formed ODM after the 2005 constitutional referendum and in 2007, I became its chairman of the Constitution, Elections and Regulations Committee. I am the one who crafted its elections, nominations and other administrative documents," Mr Marende said. He added: "I solved disputes fairly, like in 2007, when Rachel Shebesh and Elizabeth Ongoro disagreed. We found out that Ongoro won the ticket and we issued her with the certificate".
SEE ALSO: Busia's Majority Leader ousted for 'neglecting party interests'
Raila offer
Marende told The Standard he declined Raila's offer for him to be the party's chairman. In April 2017, the ODM headquarters in Nairobi's Kilimani witnessed chaotic scenes after supporters of Ongoro (nominated Senator) tried to storm the Executive Director Oduor Ong'wen's office following reports that she had been barred from contesting the Ruaraka parliamentary seat. Ms Ongoro led her supporters to storm Orange House, threatening to eject the party's from office. Ongoro accused Mr Ong'wen of trying to shortchange her. Police shot in the air to disperse the rowdy supporters. Ongoro later decamped from the ODM party. The Ruaraka seat is currently held by TJ Kajwang'.
SEE ALSO: Bromance, then boom: The parallels
Ugunja MP Opiyo Wandayi, who is ODM's Political Affairs Director, said the party was moving to a new office as one of its strategies of re-branding and re-engineering. "I have fond memories of Orange House, as it has been the seat of momentous changes in the country's politics. This is where we plotted, initiated and managed all our politics," Mr Wandayi said. He added that as party officials, they were proud that the Orange House had produced all the key political players in Kenya. "President Uhuru Kenyatta was a member of ODM because he supported the Orange Movement against former President Mwai Kibaki-led Banana wing. We are proud that Orange House has produced a President, Prime Minister Raila, Deputy Prime Minister Mudavadi and Deputy President William Ruto," Wandayi said.
SEE ALSO: MCAs blame Atwoli, Oparanya for Wetang'ula woes and Luhya division
He said the former ODM headquarters would remain the seat of the reform movement for the last decade, and would be consigned to the annals of the country's politics. Mathare MP Anthony Oluoch said Orange House would remain a key pillar in the history of the party. "We can equate it to a military barracks where we assembled our arsenal, directed our troops and retreated to scheme our next attack. It is a place where many politicians began their careers," said Mr Oluoch. He recalled that as a legal practitioner, it was the place where he went to receive directions on legal matters that ODM was involved in. But he also has bad memories. "In 2013, the party gave direct nomination to Stephen Kariuki. I let my supporters to storm Orange House, where we were baying for the blood of Namwamba. But Raila talked to me and I cooled down. Kariuki lost to George Wanjohi but petitioned the outcome. Wanjohi's election was nullified and I won the by-election," Oluoch said. Former ODM national organising secretary and Makadara MP Reuben Ndolo said together with Tony Gachoka, the late Homa Bay Senator Otieno Kajwang' played a key role in founding ODM. "Makueni MP Dan Maanzo had run away and registered ODM-Kenya. Shortly after myself and Gachoka bumped into lawyer Mugambi Imanyara at Nairobi's China Centre. We took him to Raila and he agreed to give us ODM," Mr Ndolo said. But he regrets that despite them building Orange House for everybody to be proud of, current party leaders have messed it up. "ODM is the mother party of all politicians, apart from Kanu. But the current officials are using it to benefit themselves instead of building it," Ndolo said. Raila's cousin and former Gem MP Jakoyo Midiwo did not want to talk about ODM. "I have bad memories of ODM and I don't want to speak about it. Sometimes it is wise to keep quiet once you walk out of someone's house," Mr Midiwo said.
Underhand operations
Former National Assembly Speaker Farah Maalim said the party lost its national appeal due to underhand operations. "When we formed ODM, it was a national party represented by all tribes. Orange House was full of all Kenyans. But Raila became intolerant and told everybody who questioned him to leave. We left. When dishing out positions, he began with family, Luos and then others. Today, the party is a shell and only has one tribe as leaders," Maalim said.
Imanyara acknowledges
Mr Imanyara acknowledged that it was he who gave Raila the party, but said many problems that faced the party then occurred due to the little time the outfit had to the 2007 elections. "ODM-Kenya had run away with their party. There was anxiety as to whether Raila would get a party to use for his presidential bid. I gave him ODM and helped them register it. The nomination squabbles resulted due to little time to the 2007 elections," Imanyara said. Another ugly episode at Orange House occurred when, in 2014, then Executive Director Magerer Lang'at was hounded out of office by party supporters. "I'm no longer in the party. I made my decision to quit on Thursday last week, and I am just saying this to end the turmoil in people's minds. Though I am ODM's life member, my spirit has refused it," said the former Kipkelion MP, when he quit in 2014.