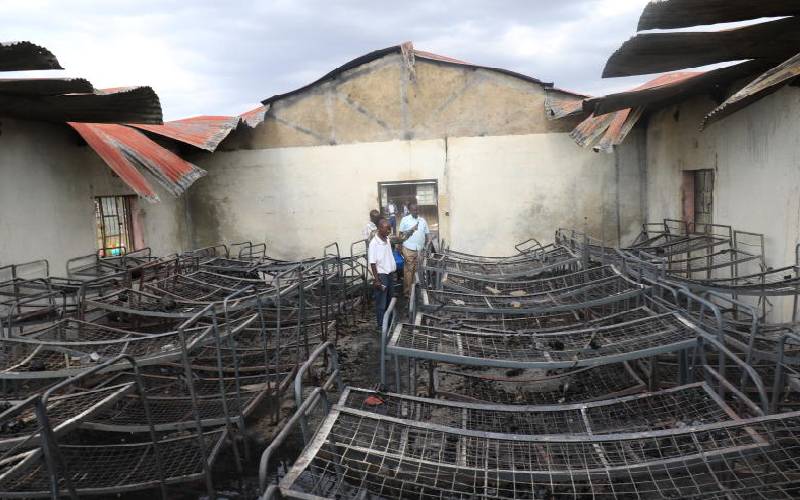 Nairobi
Court rules school failed to put in place adequate safety measures that would protect students
A judge has described dormitories in boarding schools as death traps and directed authorities to enforce safety requirements to avert fire tragedies. Lady Justice Korir also directed school principals and Boards of Management to be on high alert due to increasing incidents of student indiscipline that often resulted in the torching of dormitories. "Some dormitories are a disaster waiting to happen. It is the hope of this court that the Ministry of Education will move with haste to enforce safety standards to avert further senseless loss of lives caused by fire," ruled Justice Korir. The judge gave the orders when she acquitted 23-year-old Allan Bradley who was charged with the murder of four students and a janitor after he allegedly set fire to a dormitory at Le Pic High School in Nairobi on the night of October 14, 2012.
SEE ALSO: Staffing rules for schools to avert financial crisis
She ruled that investigations into the tragedy that reduced the entire dormitory to ashes were poorly done, and despite suspicion that Bradley could have lit the fire, it was the school's omission and negligence that led to the five deaths. According to the judge, the school failed to put in place adequate safety measures to protect students. She noted that the dormitories were overcrowded and without clear passages and exits to aid escape in case of emergencies. "The school dormitory was usually locked from outside. It is apparent the high number of casualties could have been avoided if there was a clear exit and the students sensitised on fire emergency preparedness," said Justice Korir. In her judgement, which she directed should be handed to Education Cabinet Secretary George Magoha and Principal Secretary Belio Kipsang' for action, the judge noted that school admissions should be strictly tied to bed capacity to avoid overcrowding.
Emergency exit
SEE ALSO: Menstrual flow don't stop for pandemics
The judge said each dormitory should have a door at each end and an additional emergency exit at the middle, which should be locked at all times when learners are in class or in the playing field, and dormitory windows must not have grills. The space between beds, the judge ruled, should be at least 1.2 metres. The corridors must not be less than two metres wide while the doors should be at least five feet wide and open outwards. School managers were directed to ensure functioning fire extinguishers are placed at each exit, fire alarms are fitted at easily accessible points and teachers conduct regular spot checks before learners retire to bed. Bradley, then a 17-year-old Form Three student, was accused of bundling mattresses and clothing in the middle of the dormitory, pouring inflammable material on the heap and striking a match to light the fire. The students woke up, panicked and stampeded. They managed to escape through the windows but the school janitor, one boy with disability and his three colleagues were overwhelmed and died from smoke inhalation and burn injuries.
SEE ALSO: A case for postponing this year's KCSE exam
The first witness was Bradley's classmate who testified that on the fateful night, he went to the dorm after preps and shortly after climbing into bed he heard people screaming. He ran to the middle of the dorm and saw somebody lighting a matchstick. Another student told the court he woke up when he heard windows breaking and saw Bradley, who was wearing a jumper with a hood over his head, lighting a fire in the middle of the dorm. The witnesses said there had been a rumour that Form Three students were planning to burn the school but they did not take it seriously until it happened. But Justice Korir said Bradley had not been properly identified as the fire starter. "The incident happened when the dormitory lights had already been switched off. Evidence of visual identification in criminal cases can bring about miscarriage of justice and it is of vital importance that such evidence is examined carefully to minimise this danger."