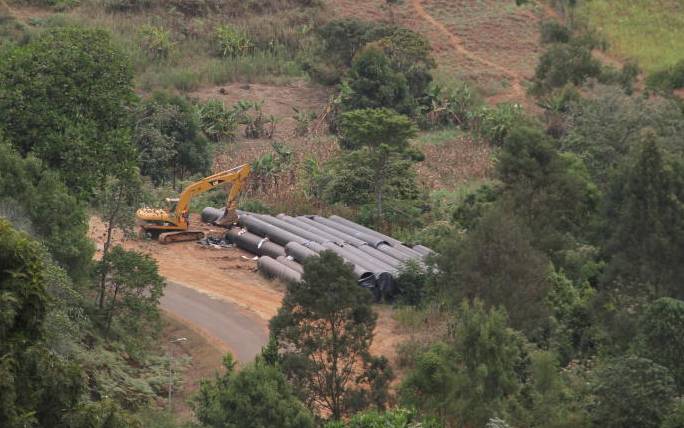 Perennial water shortage in Nairobi and its environs could ease once a Sh6.5billion project is complete. The city, which has a daily shortfall of 250 million litres of water, will receive an additional 140 million litres of water a day once the Northern Collector Tunnel (NCT) becomes operational. The tunnels, whose groundbreaking stirred a lot of controversy in 2016, may turn to be the city's saving grace. Athi Water Chief Executive Officer Michael Thuita, the NCT project coordinator, said the 11.8km tunnel with a 3.2 metre diameter will collect 40 per cent of floodwater from Maragua, Gikige and Irati Rivers in Murang'a County for use in Nairobi. "We have 11km of a tunnel that connects three rivers in Murang'a and another five kilometres to the treatment works. From the treatment site to the Gigiri distribution point is about 54km," said Thuita.
SEE ALSO: Northern collector tunnel to be ready by December, says CS Kariuki
From Gigiri the water will be distributed to city suburbs. The stretch from Gigiri to Kabete will cover nine kilometres, an additional five kilometres to Karen and another six kilometres to Ongata Rongai.
Hardest hit
"Putting up the 79km length of pipe is not easy because we have to cross rivers, roads and sometimes through people's land where we have to do easement and compensation. But we have turned the corner and are ready to deliver water," he said. From Gigiri, another line will supply water to Embakasi, one of the hardest hit by the shortage. The new line being laid through Uthiru will serve Karen, an area mainly served by boreholes. The line is also expected to serve Ongata Rongai, Mavoko and Kitengela. Water Cabinet Secretary Simon Chelugui said besides the Gigiri Water Station, there are a number of other measures being put in place to solve the perennial water problem in Nairobi. "Once in operation, the project will significantly ease water shortage in Nairobi," he said. "Gigiri will act as the nerve centre for water distribution in the city and will supply Upper Hill, Eastlands, the Central Business District, Westlands, Karen and Embakasi." "In the short-term, we have sunk a number of boreholes even as we undertake some long-term interventions including new projects that will deliver bulk water to Nairobi," he said. In the plan, Kiambu, Ruiru, Juja and parts of Thika will be allocated 50 million litres from the total water output. Chelugui said there will be a groundbreaking ceremony for the 70 million litre Karimenu Dam which will also nourish Ndakaini and Kigoro dams. Nairobi will only get 20 million litres from Karimenu. "We are finalising financing agreements on Ndaruku dam which is going to give us 173 million litres of water. We also have Gatei and Maragua dams; all these programmes are geared towards reducing water shortage in Nairobi," he said.
Joint venture
The ministry, Nairobi County government, the African Development Bank and the World Bank have a joint venture to put up a water pipeline from Kiambu to a 14-million litre tank at the Embakasi Garrison Barracks. The CS said the tunnel, piping and the pipeline should be completed by 2020. Water is one of Nairobi's biggest problems with many residents forced to rely on vendors. Most residents have bought a 20-litre jerrican of water at Sh50.