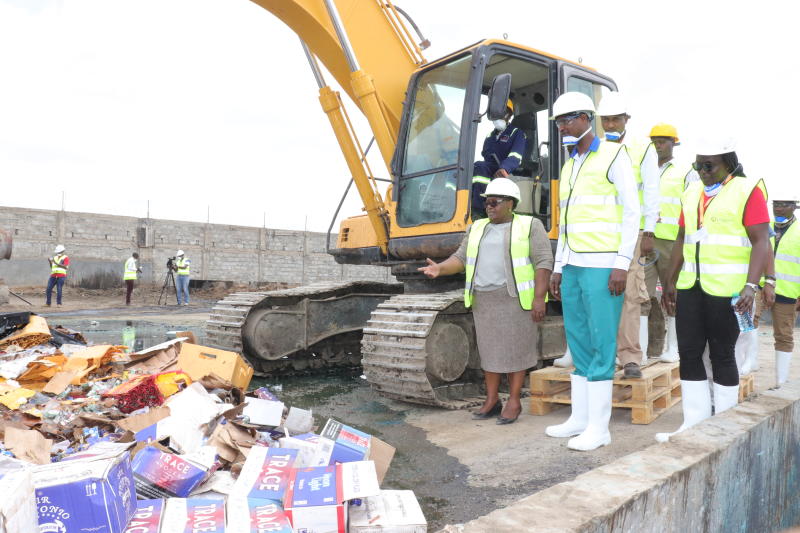 Eastern
The Kenya Revenue Authority (KRA) yesterday destroyed contraband worth Sh809,619,650 at Stoni Athi, Kajiado County.
The Kenya Revenue Authority (KRA) yesterday destroyed contraband worth Sh809,619,650 at Stoni Athi, Kajiado County. "Sale of the products, which were nabbed from the market for contravening various regulations as provided for under the Excise Duty Act, could have seen the government lose Sh193,695,443 in tax revenues," KRA said. The products were confiscated in Nairobi in the course of the last financial year and prior years. Among the products destroyed are 25,070 bottles of beer valued at over Sh6.267 million, 102,004 bottles of wine worth over Sh306 million, spirit packed in 82,538 bottles worth Sh425 million and 104,786 bottles of juice worth Sh20.9 million. The taxman also destroyed 93,670 bottles of water worth Sh49 million, 60,000 fake excise stamps worth Sh168,000 and 6,450 packets of cigarettes worth Sh967,500. Other products, including cigars, cigarillos and shisha packed in 50 packets with a market value of Sh1 million, were also destroyed.
SEE ALSO: Bailout will save manufactures from virus shocks
"Today's destruction exercise marks a significant milestone in the fight against illicit trade and contraband goods in the country. It underscores the government's determination and keenness to annihilate the vices of illicit trade and contraband goods," KRA said in a statement. "The two vices not only pose unfair competition to legally trading products in the market but also pose potential health hazards to unsuspecting consumers." The destruction comes at a time when enforcement agencies are increasingly coming under scrutiny over the role they play in enabling contraband products to be imported into and distributed around the country, forcing them to up their ante on fighting graft. Last week, Director of Criminal Investigations George Kinoti and KRA Commissioner General Githii Mburu camped at the Port of Mombasa to investigate multi-billion shilling tender scams. According to multiple sources, the DCI was probing the Sh560 million tender to make 10,000 concrete barriers awarded by the Kenya Ports Authority (KPA) to six local firms.
SEE ALSO: Dutch flower company loses Sh1.3 billion tax case against KRA
"Yes, the investigation in the port is massive and expansive," Kinoti said. He was waiting for the report as the investigators continued recording statements from the civil engineering department. Reports indicate that the investigation started after it emerged that the cost of the tender may have been inflated by 500 per cent and that some KPA managers may have received kickbacks. Last week, the Ethics and Anti-Corruption Commission (EACC) also submitted the files on the Sh40 billion Kilindini Oil Terminal (KOT) graft to the Director of Public Prosecutions (DPP).