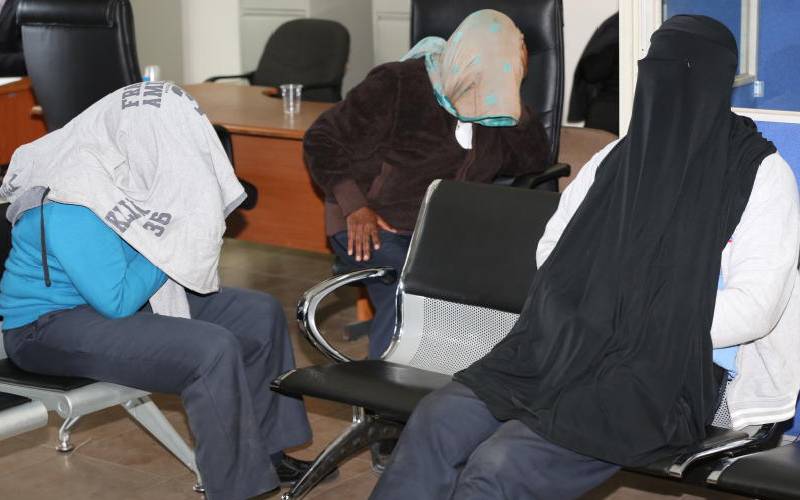 Nairobi
More than 300 criminal gangs have been formed in the past seven years, bankrolled by politicians and businessmen.
Kenya has performed poorly in a global ranking on the rule of law - tainted by official impunity, runaway corruption and insecurity. The country is in position 101 out of 126 countries surveyed in the Rule of Law Index 2019, only rated better than Afghanistan, Democratic Republic of Congo, Cambodia and Venezuela that are in the bottom four in that order. In the East Africa Community bloc, only Uganda, where President Yoweri Museveni's regime has often been brutal against dissidents, is worse off than Kenya, at position 113, with Rwanda ranked the best at position 40. The World Justice Project rated countries on a score ranging from 0 to 1- where 1 signifies the highest score and 0 the lowest possible rating (weak adherence to rule of law).
SEE ALSO: State must do more to protect citizens from terrorist attacks
Their report was launched at the sixth World Justice Forum in Netherlands. Kenya posted an overall score of 0.45 compared to 0.61 for Rwanda and 0.90 for Denmark, which was ranked the best globally in adherence to the rule of law.
Perform dismally
This is the second year running that Kenya continues to perform dismally in the ranking and it stagnated in its position, suggesting that no efforts had been made to address concerns about government excesses, tackle grand corruption, guarantee security and punish rogue officials. Kenya performed poorly on right to life and security with a score of 0.27 - an indictment against the backdrop of recent mayhem by a gang that hacked residents at the Coast and persistent complaints about extrajudicial killings. More worrying is a shocking report by an agency in the Ministry of Interior which warned that more than 300 criminal gangs have been formed in the past seven years, bankrolled by politicians and businessmen with the connivance of rogue government officials. The major players in the criminal justice system are reported to be steeped in graft — an indictment of the Kenyan Judiciary that was exposed in the case involving the Akasha brothers in a US court. The court in the US heard that Kenyan government officials sustained the Akasha family drug empire through an elaborate bribery scheme. On the absence of corruption, the police were rated 0.25, Executive (0.30) and Judiciary (0.46). But the Legislature - which has been rocked by persistent bribery claims — scored dismally (0.08). Recently, some MPs were denied visas to travel to the US over allegations of terrorism, corruption and being beneficiaries of proceeds of crime. It is the wanton plunder of public resources that also prompted the renewed war against corruption that has seen some top officials taken to court. Another area the country performed poorly was on sanctions for official misconduct (0.32), which essentially is the impunity with which senior government officials get away with crimes. The government deported controversial lawyer Miguna Miguna despite multiple court orders and has denied him entry. It was the poorest score under the category of constraints on government powers, which essentially refers to authoritarianism. "In countries where the rule of law is not established, there is violence, conflict and extremism. "This annual analysis helps to determine where to allocate resources," said Ambassador William Taylor, the executive vice president of the United States Institute for Peace (USIP). According to WJP Chief Research Officer Dr Alejandro Ponce, the index is organised in nine factors: constraints on government powers, absence of corruption, open government, order and security, civil justice, regulatory enforcement, criminal justice fundamental rights and informal justice. In the order and security category, Kenya is ranked 119 out of 126, while in the absence of corruption its position is 120. In terms of fundamental rights, Kenya is in position 101, criminal justice 84, regulatory enforcement 89 and open governance 69. When it comes to regional ranking, Kenya performs poorly at 27 against 30 states in maintaining law and order, 26th in the fight against corruption, 29th in fundamental rights and with both constraints on government powers and criminal justice, at 15th position. The country is however rated highly in open governance at 6th position in the region. The 2019 WJP report is premised on the promise of "justice for all" of the United Nations' Sustainable Development Goal 16 held last month and the UN SDGs Summit in September.
Populist backlash
"Access to justice is a fundamental component of rule of law, and the failure of justice systems to meet justice needs compounds inequality, erodes trust in institutions, and renders societies vulnerable to a populist backlash against core rule of law norms, as we see in too many parts of the world today," reads the report. As revealed in the report, the decline in score and ranking, especially being the second-largest decline over the past year in the area of criminal justice followed by open government and fundamental rights, is worrying. On a positive note, corruption continued to decline worldwide as more countries improved. William Hubbard, the board chairman of WJP said they measure rule of law by collecting and analysing independent data. "Effective rule of law reduces corruption, combats poverty and diseases and protects people from injustices large and small. It is the foundation for communities of justice," Hubbard said.