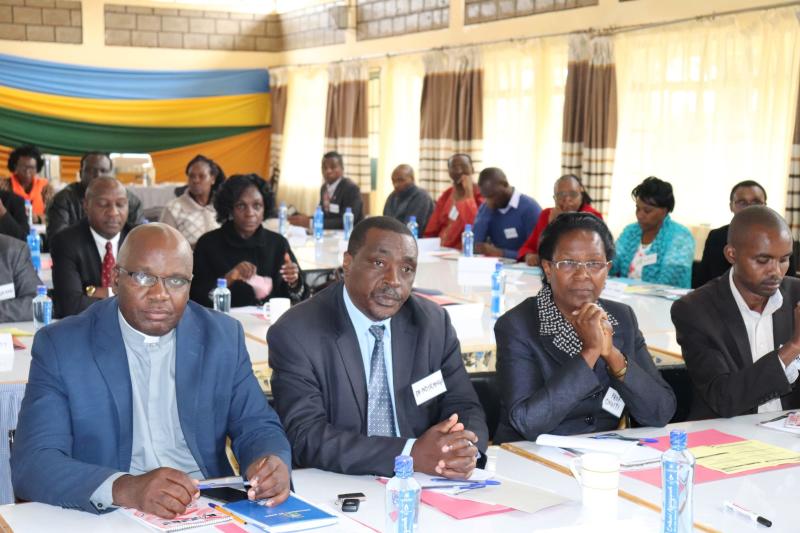 As the Competency Based Curriculum (CBC) takes root at the basic level, education stakeholders are concerned about the transition of learners to junior and senior secondary up to university level.
Deans of education faculties have met to discuss the space for universities in the ongoing education reforms as they gear up to train teachers who will receive the products of CBC at secondary school level.
The universities are also reforming their education curriculum in readiness to receive the CBC students for tertiary education.
Emerging issues
A consultative forum for deans of schools and faculties of education from 56 universities and other education stakeholders convened in Embu last week to discuss emerging issues and the implications for teacher education in the CBC rollout.
The two-day forum at the University of Embu also discussed the implementation of the new curriculum.
The participants agreed that all stakeholders from the Ministry of Education, Teachers Service Commission, Kenya Institute of Curriculum Development (KICD), universities, teachers and parents should be actively involved in the success of CBC.
According to the organisers, the forum was prompted by lessons learned in past curriculum reviews, particularly during the roll-out of the 8-4-4 system, when universities were not adequately prepared to receive graduates from the lower levels.
"This time, the universities felt there was need to start preparing early. They resolved there was need to understand what the curriculum is about and what adjustments are needed for it to be successful," said University of Embu Deputy Vice Chancellor in charge of Academics, Research and Extension Kiplagat Kotut at the opening of the forum.
According to Prof Kotut, unless universities start preparing teachers who will teach learners now under the CBC at secondary and university levels, there are risks they would be graduating tutors who are not prepared for the new curriculum.
Daystar University Vice Chancellor Laban Ayiro urged public and private universities to embrace the new curriculum.
"We do not have to wait for CBC to reach universities. We need to be ahead and ensure faculty and students are implementing what is needed," he said.
TSC chairperson Lydia Nzomo said universities did not prepare adequately for the 8-4-4 system.
"This is a timely venture for universities to prepare ahead to ensure when students finish with the basic education and get to the university, they can be trained to be teachers who can carry the mantle of CBC," Dr Nzomo, who gave a talk was on "the teacher of the 21st century," said.
She said the practical-oriented CBC improves learning outcomes by allowing learners to advance based on their ability to master a skill or competence at their own pace.
She called for discussion conversations on whether the current teacher training model sufficiently equips trainees with competencies to adequately deliver CBC.
Ethics and integrity
The TSC chairperson said teachers of the future will need to be well-grounded in digital technology, ethics and integrity, have emotional intelligence and exercise collaborative, mentorship and leaderships skills.
The classrooms of the 21st century, Nzomo said, will be different from the past ones in that they will adopt virtual tools and borderless learning territories.
"The future classrooms will be student-centric, will employ computers and gadgets and will be characterised by active and collaborative learning. The roles of teachers will change from the past when the tutor was the only source of information," she said.
"The teacher will be required to embrace technology, be flexible to accomodate change and be researchers and lifelong learners," she said.
Speakers at the forum, she further urged universities to be in the forefront in making the new curriculum successful.
Kenya National Commission for United Nations Educational, Scientific and Cultural Organisation (Unesco) Director Evangeline Njoka said for learners to acquire quality technical skills, they require relevant teaching and contents that meet their needs.
"Such an education should be delivered by well-qualified, trained and adequately remunerated and motivated teachers. Teachers should be open to change and keen to develop throughout their careers," Dr Njoka.
She said CBC was emerging as a promising model for bridging the gap between graduates training and employer needs and should be encouraged.
"We cannot effectively realise the sustainable development goals (SDGs) and African Agenda 2063 without embracing and effectively implementing CBC," she said.
She pledged Unesco's full support on efforts by the government to implement the new education system.
Need for partners
David Njegere, who represented education Principal Secretary Belio Kipsang', said universities should partner with other stakeholders in the development of resources for CBC.
"Universities should encourage masters and PhD students to research on CBC," Dr Njegere.
The forum also deliberated on how to address the challenges facing the CBC.
The deans expressed concern that an acute teacher shortage could mar effective implementation of the new curriculum.
Dr Nzomo responded by lauding universities for producing as many teacher graduates providing a large pool for CBC implementers.
"We have more than 300,000 trained teachers who are registered by TSC, but we have not employed them. If we are allocated funds, we can recruit them even in a week's time. For now, we are using creative ways. We plan to engage teachers as interns on renewable contracts. When the country has the means, we will hire them," she said.
Head of Faculty of Education at Chuka University, George Muthaa, said deans are the better placed to reflect and design the kind of curriculum to implement.
"We are the people to reflect on the professional bodies to set standards on the human resources that will guide and implement education reforms in the country," Prof Muthaa said.