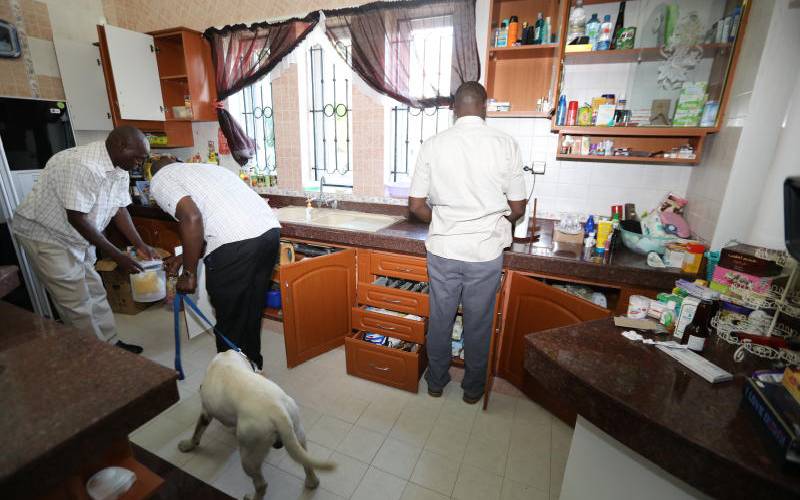 Coast
Complicity of police in narcotics trade laid bare in leaked cables.
The revelation that Ali Punjani had been assigned 19 Administration Police officers to guard his ritzy home in Nyali, Mombasa, is bound to elicit debate on police patronage. How Punjani, who was branded a fugitive even as his house was ransacked yesterday, managed to retain police protection at a time the Government was scaling down security for VIPs points to his influence. Mombasa police commander Johnstone Ipara, who spoke after the search at Punjani's home, denied that police officers had been deployed to guard the suspect's home. As the operation was ongoing in Mombasa, a senior police officer in the neighbouring Lamu County was being accused of freeing a suspected drug trafficker. Last evening, his seniors were saying an internal disciplinary tribunal had been convened to decide whether he would face trial.
SEE ALSO: Coast Covid-19 lab shuts its doors after employee gets corona
The complicity of elements in the police force in the narcotics trade at the Coast has been shared in leaked US diplomatic cables. The hold the drug lords have on local authorities was recently laid bare in a US court. A New York court trying two Akasha brothers - Baktash and Ibrahim - was told of how Government officials shielded and sustained the Akasha family drug empire through an elaborate bribery scheme, forcing the US to connive to airlift them away. Baktash, in a conversation with a US agent he believed to be a fellow drug lord who would help him secure a $10 million (Sh1 billion) deal to supply heroin to the US market, boasted how the consignment would be airlifted in a private aircraft from his palatial home in Mombasa. "This house is big, man. They will send their own aircraft. Special aircraft. Hallo! An aircraft will come. It is a special plane that will go all the way to West Africa. From there, they have a gateway to take it to the land of Obama, okay," Baktash was quoted telling the agent code-named Rashid in March 2014. In the New York trial, prosecutor Geoffrey Berman told of how the Akashas used kidnappings and violence to target Punjani's associates.
SEE ALSO: Mombasa sleuths probe student murder
"The Akashas' drug rivalries were not limited to Armstrong's organisation. In 2014 and 2015, the Akashas' primary drug-trafficking rival in Mombasa was an individual named Ali Punjani. To show their dominance over Punjani, the Akashas targeted his associates - 'Speedy' and Tony Sanghani," Mr Berman said in court papers. Baktash's confidence about getting away with crime was not entirely baseless as years back, the seizure of more than one tonne of cocaine in Nairobi and Malindi had spectacularly demonstrated the lengths to which rogue elements in the police would go to protect their godfathers. Kill investigator Killing of an investigator who was closing in on another haul, concealing of evidence to bungle the case, and tipping off key suspects prior to subsequent raids were some of the tactics used to ensure that despite the December 2004 seizure, little progress was made in exposing those behind the drug shipment. That Punjani is afforded police bodyguards is a pointer that nothing has changed in the narcotics war. The wanted tycoon is reported to be ailing in a hospital in India.
SEE ALSO: Kenya-Tanzania border war to hit revenue, trade at port
Just how the police were deployed to guard Punjani's home could not be the result of an oversight. Police operate in a clear command chain that often includes regular meetings and parades before duties are assigned for the day. Leaked intelligence reports have illustrated the behind-the-scenes events where Government officials are reported to protect the drug trade. An unnamed top magistrate shared with American intelligence officers of "a high level of frustration with poor handling of investigation and prosecution by the Kenya Police Service and the Department of Public Prosecution" in a leaked cable. The connivance of corrupt magistrates and judges also ensured drug barons were never convicted, as the confessions of the Akasha brothers revealed. But it is the contents of the leaked cables that best illustrate how Government officials are in bed with criminals, especially drug barons.
SEE ALSO: Chief dies after being run over by traffic cop
"The lacklustre performance of legal and law enforcement authorities in the cases, the increasingly whispered fear that national politicos are providing protection for the ring, and now the murder of officer Hassan Abdillahi, sharply undermine post's confidence that Kenyan authorities are serious about combating international narcotics trafficking," read one cable. Abdillahi was the district criminal officer at the port of Mombasa who had been investigating the presence of 50 containers of hard drugs. His killers have never been identified despite driving away in his car. It is likely there was no honest desire to pursue them.
Police units clash
But the inconsistencies do not end with the narcotics alone. Earlier in the year, police from different agencies came to a near all-out gun war after one group intercepted smuggled alcohol into the country. The other group was protecting the smugglers in what is thought to be a wider scheme involving their seniors.
SEE ALSO: Private school, parents clash over fees for online classes
In April the two police units clashed at a roadblock along the Nairobi-Namanga highway over suspected contraband ethanol. Two detectives from Directorate of Criminal Investigations (DCI) in Parklands were disarmed in the drama before they were rescued by their seniors who sent them reinforcement. They were disarmed at the Kitengela roadblock by a team of police officers as they escorted a lorry laden with suspected illicit ethanol from Tanzania. And in May police had to fight off claims that General Service Unit was guarding the house in which fake gold was stored in Kileleshwa, Nairobi. The officers had been spotted at Kaputei Gardens where a raid on fake Gold had earlier been conducted but police later explained that they were guarding members of Diplomatic corps residing within the court and not the suspects.