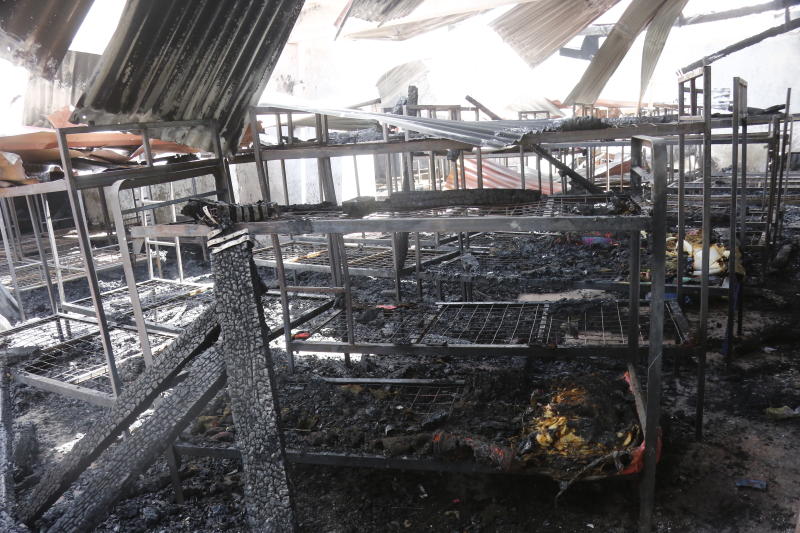 At least three schools are hit by cases of student unrest across the country every day, police reports reveal. Since the beginning of July, 48 incidents ranging from burning of dormitories to students breaking out of schools and destroying private property, have been reported. According to police statistics, Central region leads in the number of incidents closely followed by Eastern region of Machakos and Kitui. The silver lining, however, is that unlike last year, majority of the latest arson attacks have been foiled at their infancy. The reasons behind the unrest range from fear of the upcoming examinations, food rationing to students protest against the school administration.
SEE ALSO: Retirement blues: Unlike footballers, rugby players don't 'omba serikali'
"Most students have no avenues through which they can channel their grievances. Prefects have not been reliable and some of them are actually the cause of the fires in schools," Machakos County Director of Education Shamsa Mohammed said on Friday while touring Kyanda Secondary School, one of the affected schools. In Machakos, there have been about seven cases of student unrest where property worth millions of shillings was destroyed and learning paralysed. The worst was the July 8 incident at St George's Katheka Mixed Day Secondary School where two students suffered 56 per cent burns. Eight students were arrested for the attack. Mohammed has since summoned all secondary school principals in the county to an urgent meeting to discuss the crisis. Magomano Secondary School was the first to report cases of unrest in Nyandarua County on July 1.
SEE ALSO: Schools staring at losses over closure
Students who were opposed to the school administration went on the rampage and smashed window panes of the administration block. Police officers were called in and helped contain the situation. Kambi Boys marked Murang'a County's first case of unrest when protesting students who were opposed to sitting for mock examinations went on the rampage and set a dormitory on fire. Police reports to Vigilance House reveal that property worth 1.2 million was destroyed by an inferno. Six students were arrested for arson.
Mock exams
On July 2, students of Mbogiti who were protesting that they were being served small portions of food went on the rampage. They broke out of school to a local shopping centre, Gatura, where they are reported to have stoned several vehicles. Police officers dispersed them before the situation got out of control.
SEE ALSO: Please give us any job, teachers plead
On the same day, students of Machakos Boys set a dormitory housing 69 on fire. No student was injured during the night inferno. The police suspect students opposed to mock examinations were behind the incident. At Ichagaki Boys in Murang'a, the school management foiled an arson attack at the last minute. Students allegedly opposed to examinations had been spotted holding meetings. Security guards at the school who had been tipped off about a planned arson recovered a five-litre jerrycan full of petrol hidden in the compound. The police also recovered blankets stuffed in a paper bag. Investigators believe the blankets were to be used to light a fire. Three days later, rioting students at Kyeni Secondary School in Embu County were planning to torch their dormitory. The students were protesting small portions of food served to them. Security guardsrecovered a five-litre jerrycan full of petrol in one of the dormitories. The management of Murang'a Elite Girls was however not as lucky. The girls torched a dormitory on July 5. The reasons behind the unrest are yet to be established but the school estimates the damages are worth Sh300,000.
Powerful learners
Education Cabinet Secretary George Magoha said the ministry is doing all it can to get to the root of the problem. "I don't want to comment on the issues as we are still working on them," he remarked. Yesterday, Kenya Secondary School Heads Association (Kessha) chair Kahi Indimuli said there was need to look at laws governing students. He said existing laws favour students and school administration have their hands tied. Nicholas Maiyo, the National Parents Association chairman, said there is need for greater cooperation between the teachers, parents and students as a way of dealing with the cases. "It is the parents who bear the burden when their children are made to pay for damaged school properties. The solution lies in greater cooperation between parents, teachers and the students to iron out issues," he said. [
Additional reporting by Erastus Mulwa]