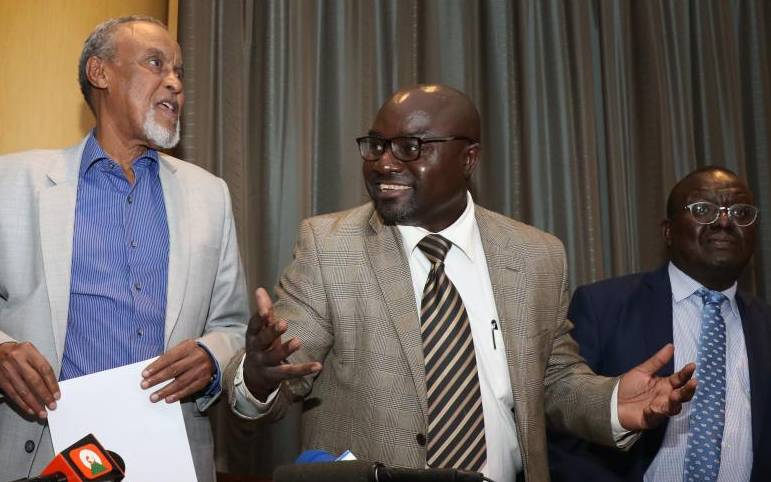 The Building Bridges Initiative BBI task-force failed to hold its sittings in Tana River on Tuesday after an attempt by a plane carrying its members to land at an airstrip in Hola aborted. The light aircraft flew to Lamu after the pilot decided to abort landing at the waterlogged airstrip in Hola. Heavy rains have pounded Hola for the last two days causing heavy flooding. Tana River has almost non-existent drainage systems. Rains were reported in many parts of the Coast including Mombasa.
SEE ALSO: IPOA asked to probe extrajudicial killings in Tana River County
Today, David Mutua, the assistant county commissioner, said the plane could not land in Hola because the airstrip was waterlogged. Besides the airstrip with a single runway is not well maintained, according to independent accounts. The BBI which was formed by President Uhuru Kenyatta and former prime minister Raila Odinga has visited 44 counties collecting public views on how to reform Kenya's political, governance and electoral systems. Tana River is one of the counties it has not visited. On Tuesday, there were 12 task force members aboard the plane including chairman Senator Yusuf Haji and vice-chairman Dr Adams Oloo. Hundreds of people from the county's three sub-counties who had gathered at the local town hall in Hola waited and dispersed after more than two hours of waiting. Many including civil society groups had prepared memoranda to present to BBI.
SEE ALSO: Malaria risk for Tana River flooding victims
One of the invited guests Ramadan Babisan protested to the BBI Secretariat claiming that poor infrastructure and drainage was one of the problems facing Tana River. "I wonder why we are called in the morning but still the commissioners have not arrived at 12.00 noon" he protested at the venue. Over 150 opinion leaders called from three sub-counties of Galole, Tana North and Tana delta were disheartened after being told of the developments at the eleventh hour. Ms Rachel Kamweru who is an official of the BBI Secretariat apologised to the delegates but said that the issue of security cannot be disregarded. "I am apologising that the commissioners have refused to take the risk to land here because the airstrip was wet and the pilot cannot land completely and they cannot insist on it," she said, amid complaints from unaffected residents.