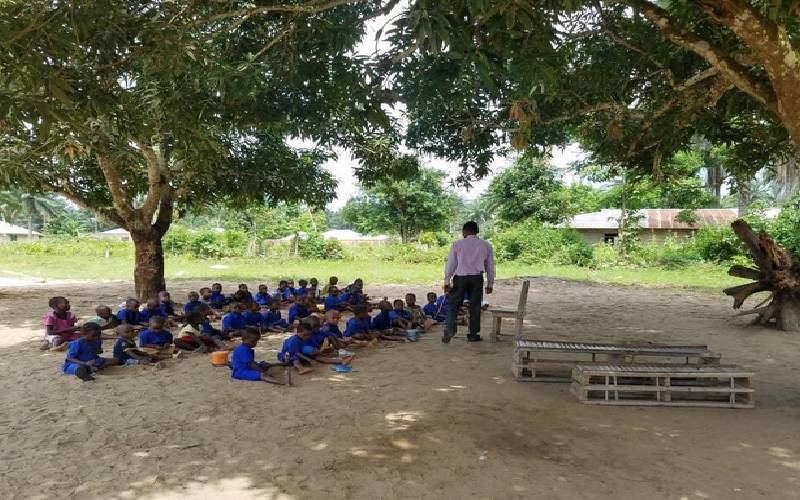 Langa Langa Secondary School in Nakuru County has converted a bus shade into a classroom following high Form One student intake this year. Currently, the county has recorded 85 per cent transition from Class Eight to Form One against the national target of 100 per cent. Up to 1,052,364 candidates sat Kenya Certificate of Primary Education (KCPE) examination last year. From these, Langa Langa admitted 342 up from 248 enrolled last year, moving it from a four-stream school to a five-stream.
SEE ALSO: Resident wants Sh20b Nakuru budget shelved
The school has 1,048 students taught by 35 Government-paid teachers and urgently requires a new classroom, desks and chairs. At Nakuru High School, the dining hall has been converted into a dormitory to accommodate at least 30 Form One students as the institution's alumni seeks funds to put up a new 150-capacity boarding facility. Up to 290 students were selected to join Form One at the school through the National Education Management Information System. An additional 30 learners were approved for admission by the Ministry of Education. "Our school does not have an issue with high intake. Learners who did not secure accommodation at the dormitory reside in an extended room at the dining hall," said the school's principal Mike Yator. The school currently has 1,200 students, taught by 70 teachers, 62 employed by the Teachers Service Commission (TSC), four on teaching practice and four paid by parents.
SEE ALSO: Package to mentor learners planned
Immense pressure The chairman of Kenya Schools Heads Association (KESHA), Nakuru branch Fredrick Mbuthia said the 100 per cent transition policy had put immense pressure on teaching facilities and could hamper the quality of learning in public secondary schools. "The ministry did not plan in advance how to handle the increase in admissions. We have schools in Nakuru that have recorded more than 100 per cent increase in form one admissions. This will clearly overstretch the facilities," said Mr Mbuthia. Sub-county schools, he said, were the most affected after head teachers were directed to admit all learners without considering availability of infrastructure. The affected schools were not given money for expansion. "Sub-county schools are the ones making 100 per cent transition a reality because they admit learners from low income families," he said.
SEE ALSO: Big loss for Nyanza hockey giants as Term I school games fate unknown
At Afraha, where Mbuthia is the principal, each Form One class has up to 70 students against the standard 45. The school has 1,200 students taught by 45 teachers, three paid by parents. The school owes suppliers more than Sh500,000 for supply of desks for new students. According to the head teacher, the Government should allow schools to use part of its funds meant for repair of infrastructure to purchase desks. At Lake Bogoria Girls Secondary School, students take meals in the open after the dining hall was converted into a dormitory. A number of students study inside a tent. The school principal Jean Ngaywa said enrollment of Form One students rose from 70 to 180, overstretching classrooms and dormitories. "Our girls understand challenges we are facing. We have spoken to them to adapt to the changes so long as they attain quality education," she said. Ms Ngaywa said the National Government Constituencies Development Fund had promised to put up a new dormitory at the school that is renowned for hosting girls rescued from early marriages and female genital mutilation. In Kericho High School, the principal, Daniel Chelule, said an additional 40 Form One students were admitted on top of 288-capacity. This forced the institution to convert rooms ordinarily used to teach optional subjects into full-time classrooms.