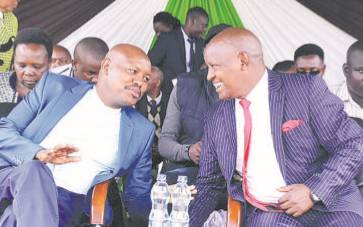 The government has issued a stern warning to politicians attempting to revamp the outlawed Mungiki sect in Nyeri County. County Commissioner Yatich Kipkemei said police have gathered intelligence that some politicians in the County have been using the outlawed group to cause terror and mayhem within the region. "The intelligence system has informed us that youths are being paid by a politician to unleash terror and we will get hold of you regardless of how powerful you are," Kipkemei warned. Speaking during the 97th International Cooperative Day Celebrations at Kamukunji Grounds in Nyeri town Saturday, the County Commissioner said the politicians were infiltrating the transport sector to lure operators and particularly the boda boda riders. "The government will not allow re-grouping of Mungiki in the county," Kipkemei said adding that those caught will only have themselves to blame.
SEE ALSO: Nyeri residents unaware of plans to remove Baden-Powell statue in UK
He warned that the government will take action against those politicians using youths to gain political mileage and advised them to concentrate on development instead of premature 2022 election campaigns. "We don't eat politics every day. There are many other pressing issues to address in the county and the country," the County Commissioner said. His sentiments were strongly supported by Nyeri Governor Mutahi Kahiga who said his administration would not condone the regrouping of mungiki that the government had crashed. "I support the national government fully as no politician is more important than Nyeri people," Kahiga declared. The governor warned that if the sect reared its ugly face back, all social-economic activities would be affected and the county was not going to allow it. Mungiki sect was notorious for extorting money from businesses, household and PSVs during its hey days in Central region. Kahiga said that politicians ought to tone down political matters and instead work for the residents. Kipkemi advised Cooperative societies in the County to involve youth in their operations to ensure creation of employment among them and manage their succession plans noting that most of them were led by an aging cadre.
SEE ALSO: Former presidential escort collapses and dies at home
Ten years ago, on the night of April 20, 2009, Nyeri made international headlines when alleged Mungiki followers killed 29 men in one night, in cold blood, at Gathaithi village in Nyeri, along the border with Kirinyaga County. Nyeri County has also been identified as a hotbed of youth radicalisation into terrorism, with several terror suspects traced to Nyeri town as their place of birth.