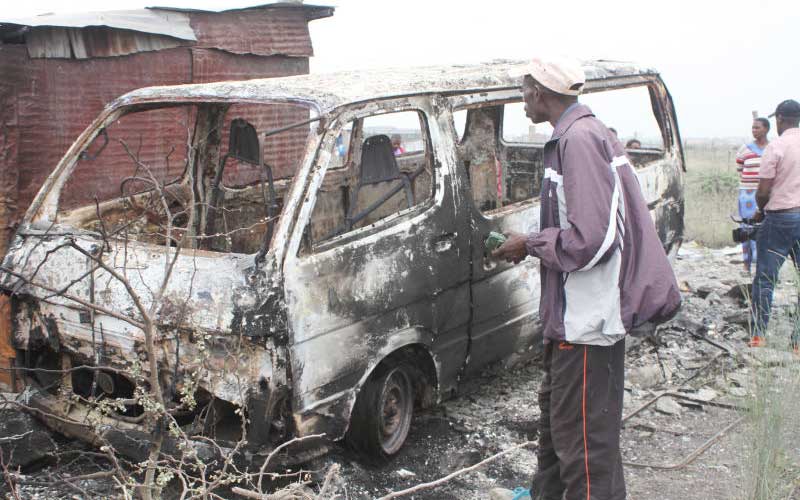 Scores of people were injured and property worth millions of shillings destroyed yesterday after armed men attacked a village in Athi River, Machakos County. Among the property destroyed were several houses, cars and motorbikes that were burnt. Residents of Kwa-Mulinge village which was under attack said trouble started when more than 100 men descended upon them with crude weapons. Those interviewed said the men were hired to evict them from a disputed piece of land. They first attacked a shop, which they looted before torching it.
SEE ALSO: Athi River family agonises over missing three-year-old girl
The goons then proceed to a pastor's house, attacked him and his family, leaving them for dead. Martha Musyoki, a resident, said efforts to contact police were fruitless since calls to the police station went answered. "We kept on calling the police to rescue us from the attackers, but they failed to answer our calls. The goons kept on terrorising us the whole night," said Ms Musyoka. The residents said land grabbers are the cause of the attack, and asked the Government for help. "We have been living here for more than a decade now. This land was allocated to our fathers by the late Major General Mulinge during the Kanu regime and we cannot allow tycoons to take it over," said Rebeccah Muraa a resident.
Receiving threats
The locals further alleged they have been receiving threats from a particular tycoon to vacate the land. The villagers, through their spokesman David Mutuku, insisted to
The Standard
that the 2000-acre piece of land belonged to them. "We will fight for it to the end. If the person claiming it has genuine documents, he should go to court and follow the law. Why does he have to destroy our property at night?" said Mutuku. "What is more shocking is that even after the terror we went through, no one from the local police department cared to answer our calls of distress." He claimed that those who want to grab the land are using security organs to intimidate the villagers. "I am wondering how to start rebuilding my life," said Mary Mwikali a resident. "My house has been demolished and I have been left in the cold with children who cannot go to school under the current circumstances. Our forefathers lived on this piece of land and we are wondering how in a fortnight, a tycoon wants us to vacate our inheritance and just walk away." Locals have appealed to relevant authorities to intervene and ensure justice prevails. A senior police officer who spoke to journalists, but declined to have his identity revealed due to the sensitivity of the issue, said officers from Mlolongo police station were following the matter and the attackers will be arrested.