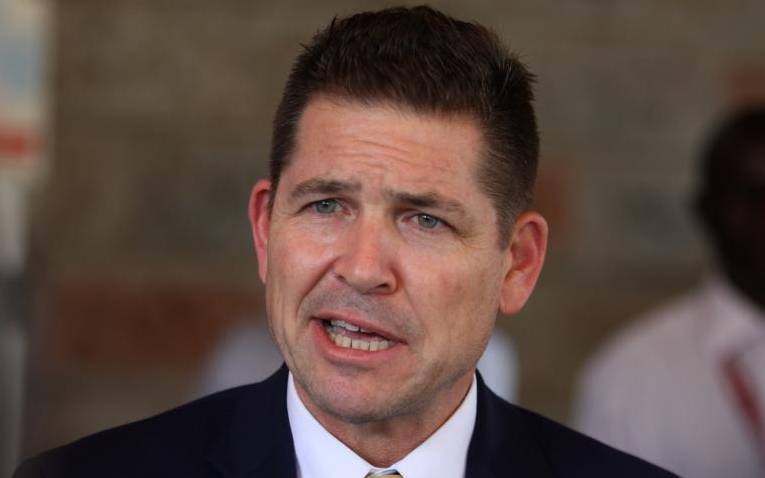 The controversy surrounding the planned coal-fired power project in Lamu is far from over, with a US envoy now dragged in.
Yesterday, a climate justice champion took exception with the US envoy's support of the coal-fired power project, saying the American was not up to speed with the facts on the ground.
In a hard-hitting statement in response to US Ambassador Kyle McCarter's tweets seen on his handle hours after the National Environment Tribunal cancelled a license issued to Amu Power to continue with the project, the Pan African Climate Justice Alliance (PACJA) Executive Director Mithika Mwenda sought to know "America's interest in the Lamu's coal project", saying it was suspect that the envoy even appeared to belittle Kenyan Judiciary.
"… as we wait to see whether AMU Power and NEMA will appeal within 30 days after the ruling, as advised by the tribunal, we can only wish that McCarter was not intimidating an independent institution to serve his partisan interest, which we all know – President Trump's climate-denial diplomacy," Mr Mithika stated.
It was not, however, clear whether the US Government had approved Kyle's tweets as official statement of its stand.
However, Time, in an article titled "The Trump Administration Protested When Kenya Halted a Coal-Fired Power Plant", wrote that a US State Department official had told it on July 8 that the US backs "an approach that takes into account, considers all forms of energy" to support economic growth in the region… and stressed that electricity must be "affordable and predictable" to attract investment.
"American companies and investors are ready to partner with Kenya to help them achieve an affordable and reliable power grid, in all forms of energy to support the exponential growth expected in Kenya's prosperous future using whichever source they choose," the publication quoted the US State official as saying.
The Lamu power project matter has been in court, with several civil society groups recently holding demonstrations in the Nairobi streets to condemn Government's stand.
The CSOs also admonished the Chinese government for its interest and involvement in the project, saying China was looking for market for its coal as it shifts to cleaner and renewable energy.
In reaction to a protest letter written to the Chinese embassy by PACJA, Chinese Ambassador Wu Peng recently held a meeting at the embassy with representatives of certain NGOs and denied that his country was involved in the coal-fired power project.
Yesterday, Mithika highlighted alternatives to the coal project that the Government could exploit, saying Kenyans were not desperate for more power as what was available was not exhausted.
"We have many unexploited options, if the growth of Kenya's economy is the true motivation for such a project. We have agriculture, tourism, art, ports, energy, transport and many other safer economic pillars that would grow this economy without harming a fly," Mithika said in the statement.
He enumerated the other sources: "Out of our total energy, 70 per cent is green. We generate 534MW from geothermal, and will by 2022 be doing 1,119MW. Our total geothermal potential is 10,000MW. We have not exploited wind and solar energy. The 365 turbines in Lake Turkana have a potential of 310MW."
It did not matter to Mithika that he is due to receive a prestigious Earth Care Award from an American institution in September. He said: "The US envoy can pretend to be ignorant about the climate-polluting, carbon emissions associated with coal-fired projects and argue that coal is "the cleanest, least costly option". But he should be kind to tell us what to do with what we already have, of which we do not consume even 10 per cent".
The National Environment Tribunal gave NEMA and Amu Power, the two respondents in the case, 30 days to appeal after the ruling made on June 26, and which barred the implementation of the project until adequate public participation and a fresh Environmental Impact Assessment were done.
"The US Government must come clear on its interest on the coal-fired plant," Mithika concluded.