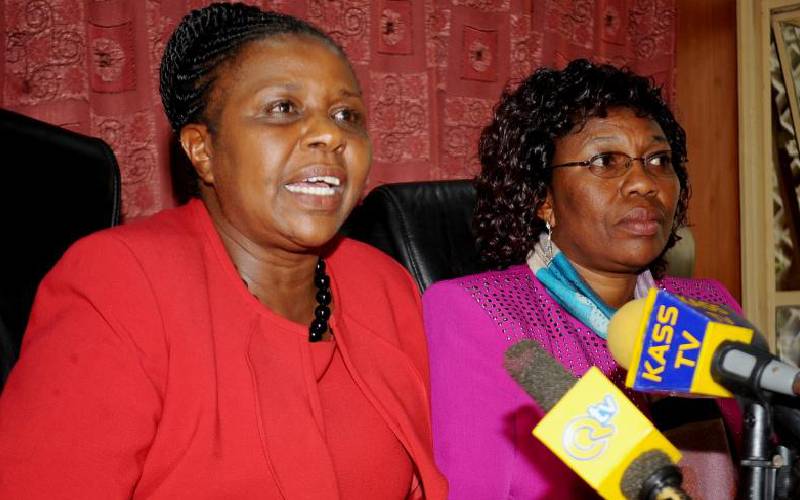 Rift Valley
The protest forced MCAs to adjourn an afternoon session.
A chaotic scene was witnessed on Tuesday afternoon at the Bomet county offices. Residents protesting against the arrest of a youth for allegedly leaking a list of employees hired on contract stormed the Human Resource office. The more than 50 protesters evicted employees and locked the doors. Some of the Human Resource officers escaped through the window after the youth threatened to rough them up.
SEE ALSO: Widow's attempt to exhume body flops
County Secretary Evaline Rono had to be whisked out of her office. The protesters camped outside her office demanding she speaks with them. Twenty-six-year-old Godwin Maritim was arrested after investigations linked him to leaking more than 200 letters of appointment. He accused the HR officials of undermining Governor Joyce Laboso's supporters. County Assembly Leader of Majority Josphat Kirui was forced to intervene to secure Maritim's release. Bomet County Jubilee chairman Bernard Mutai had to intervene to calm the protesting youth.
SEE ALSO: 4 siblings who refused to be held back by blindness
The protest forced MCAs to adjourn an afternoon session. Speaking during a meeting at the county headquarters, the youth accused the county administration of turning their backs on them. They said despite promises by Laboso to employ some of them, none received letters. "We are shocked that instead of employing us the county is targeting and arresting us, which is unfair," said Patrick Rotich. Rotich said it is absurd that those who helped Laboso win have been sidelined.
SEE ALSO: Bomet County grappling with increasing number of sex workers
"Individuals who never played any role are now calling shots and mistreating us," he said. Another youth, Dominic Rop, said all expectations they had from the current administration had been ruined by selfish individuals. Mutai said there was laxity in the administration's implementation of pre-election pledges. He accused the Bomet MCAs of being asleep on the job, saying they have neglected their oversight role. "We want to see MCAs working and taking up matters before they get out of hand."