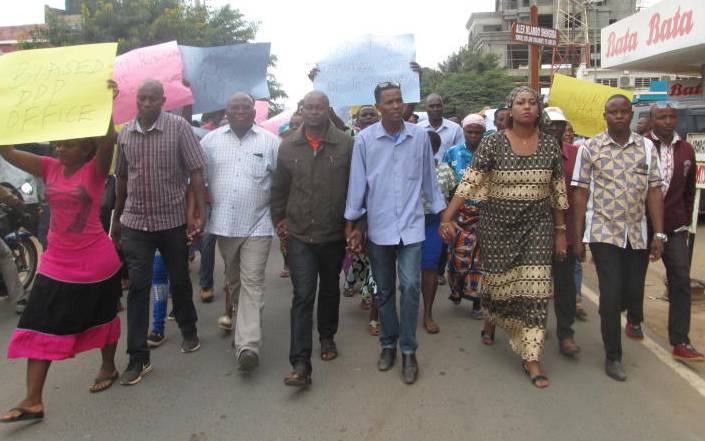 Coast Regional Coordinator John Elungata has ordered herders without a legal lease agreement with local farmers to vacate the region or else face forceful eviction. Speaking yesterday, Mr Elungata said some herders, particularly in Taita-Taveta County, were promoting conflict and compromising security in the region. "We only want to see herders with clear authority or approval from local farmers to stay in the region. Those without approval are invaders and must leave the region immediately or face arrest and prosecution," warned Elungata.
Better dialogue
SEE ALSO: Governor Samboja, MCAs truce stops CECs removal
He called for better dialogue between farmers and herders. "We do not want to see conflict in the region. There should be proper relationship between local farmers and herders, which is lacking," he said. The county has witnessed conflict between farmers and illegal herders who have invaded settlement areas in search of water and pasture. Last Thursday, a farmer was killed at his farm in Sagala location, in Voi sub-county. The 35-year-old farmer was stabbed to death as he tried to prevent the herders and their camels from invading his farm. In retaliation, residents killed more than 60 camels belonging to the herders. On Monday, hundreds of residents blocked the busy Nairobi-Mombasa highway for hours to protest the killing.
SEE ALSO: Taita Taveta MCAs threaten to impeach two CECs over funds misuse
The protesters were joined by Woman Representative Lydia Haika and ward reps Godwin Kilele (Sagala), Abraham Juma (Kasigau) and Godfrey Mwambi (Mbololo), who demanded for action on 29 incidents committed by illegal herders. Governor Granton Samboja, Senator Johnes Mwaruma, MPs Jones Mlolwa, Andrew Mwadime and Assembly Majority Leader Jason Tuja condemned the farmer's killing and demanded the eviction of all illegal herders. The leaders accused local Interior ministry officials of taking sides in the conflict. They accused one administrator of perpetrating illegal grazing by receiving bribes from the livestock traders. Yesterday, Elungata, who visited the county to assess the security situation, warned officials found colluding with illegal grazers that they would face disciplinary action. "Chiefs and their assistants must not allow illegal herders to continue grazing in local farms without legal lease agreements. We will take action against those involved in illegal dealings to promote unnecessary conflict and compromise security," he said.
SEE ALSO: Taita Taveta Assembly demands disputed KBC land
Major operation
Elungata said a major security operation had been planned to rid the region of illegal herders. "There should be an agreement between farmers and herders and those without such documents should leave or face the full force of the law," maintained Elungata. Meanwhile, the draft policy on ranching and grazing management was tabled before the county assembly for adoption. The committee on agriculture, livestock and fisheries identified a number of gaps in the management of ranching and grazing, among them lack of proper title deeds, policies and laws on rangeland management. The committee, chaired by Wusi-Kishama ward rep Justin Mwamba proposed training for ranchers and herders on grazing management.