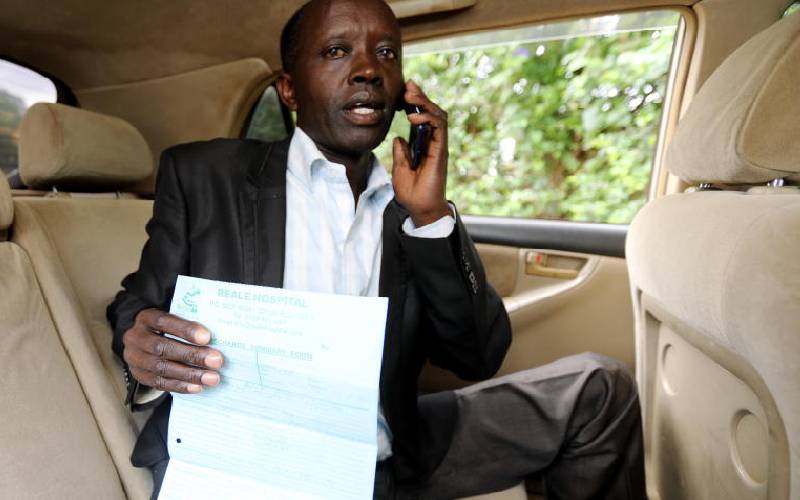 The university student shot inside State House grounds on Monday has led a troubled life for the past three years. His father, David Bera, says his son has been battling a mental disorder. Brian Bera, a fifth-year student at Jomo Kenyatta University of Agriculture and Technology, is nursing a gunshot wound after he trespassed into the official residence of President Uhuru Kenyatta. Authorities said Brian defied an order to stop and instead drew a knife on police guarding the residence at 4.05pm. On Tuesday, his father David Bera told
The Standard
that the final-year mechanical engineering student has been in and out of hospital after he started exhibiting subtle signs of mental illness.
SEE ALSO: Uhuru condoles Mandela family
"In June last year, Brian was admitted to Reale Hospital in Eldoret town for two weeks. After diagnosis, it was established that he had a brief psychotic disorder," said Mr Bera, who displayed a discharge form from the health institution. A copy of the medical sheet seen by
The Standard
indicated that Brian exhibited "disorganised behaviour/speech, violence, wandering and needed psycho-education/family therapy". He was due for a psychiatric review in August, 2018. "After being discharged from hospital last year, his condition improved. He even requested to go back to school to complete his studies and was never taken for medical review as required," the father said. Brian's intrusion into the highly-guarded compound caused a security scare as President Kenyatta is said to have been within the precincts when gunshots rent the air. The Head of State had jetted into the country in the morning from Vancouver, Canada. Sources said following the gunshots security was heightened.
SEE ALSO: ODM bags plum committees posts after Jubilee concedes
Officials added the President and his family were briefed about the shooting immediately. They were informed that there was no threat. Yesterday, State House said investigations were ongoing to establish the motive of the trespass and appropriate action would be taken upon conclusion.
Drew knife
"The student who climbed over one of the State House gates was shot and wounded in the left shoulder by GSU guards manning the gate after he drew a knife when he was challenged to stop," said State House spokesperson Kanze Dena in a statement. Brian was booked at Kileleshwa Police Station and thereafter taken to Kenyatta National Hospital for treatment where doctors established that the bullet exited through his back. Police are seeking to establish why Brian risked his life sneaking into the heavily guarded compound.
SEE ALSO: Corona hits new high. Was it a gamble to reopen?
Other intruders have not been so lucky. In March 2017, guards shot and killed a man who was found in the parking area of the President's residence. However, what may be of interest to detectives will be Brian's online activities. Shockingly, he seemed to have planned to intrude State House going by his posts on Facebook. His last post on the social media platform was on Sunday night where he outlined his plans for the following day. "Tomorrow I attack State House," read part of his posts. He also indicated that he was fighting for what he termed as 'land injustice' in his home area in Trans-Nzoia County. The Facebook account was deactivated yesterday in the afternoon. Those who attempted to reach out to the student after reading his disturbing posts said he was defensive. He even went to the extent of blocking people he felt were meddling in his life. His sister, Vivian Bera, a university student in Eldoret, is among those that he blocked. "After blocking me, he never picked my calls. This was after I started questioning why he was making alarming posts," said Vivian, who insisted that her brother was not a criminal. "He requires psychiatric treatment," she said. In his interview with
The Standard
, Mr Bera painted a rosy picture of his first son who he described as a jovial and bright student in primary and secondary school. The first born in a family of six, Brian was among the top students at Kitale School where he scored 407 marks in Class Eight. This earned him a place at Nairobi School where he managed a straight 'A' in the KCSE exams.
Became withdrawn
"In 2016, we started observing changes in him when he was at home. He became withdrawn and started keeping to himself most of the time. He was also suddenly very negative about life and everything," said Bera, who is a tutor at Ol'lessos Technical Training Institute. The father said they did not think much about Brian's strange behaviour until February last year when he received a call that his son had been arrested at Naromoru after he was caught inside Mt Kenya National Park. "I received a call from the area OCS that my son had been arrested and I should go pick him up from the station. Brian told the rangers who arrested him that he was on his way to the top of Mt Kenya." Bera took his son home to Kitale and immediately sought help for him, a quest that saw him visit a number of local hospitals and even seek help from herbalists. But Brian's behaviour did not change as he continued isolating himself from his family and neighbours. Most of the times he locked himself in his room, reading, or visited the nearby Mt Elgon Forest and the caves dotting the region. His standard response to those who questioned where he was going was that he was "more at home with nature". Bera said in June last year, Brian went missing only to later get a call that his son was in Athi River town with his cousin. The relative told him that Brian was 'mildly' violent. Brian was taken to a hospital in Eldoret where his condition was diagnosed.
Obedient child
"My son has never been involved in any form of criminal activities since his childhood. In fact, he is among the most obedient, honest and brilliant children with no known case of drug abuse. He is a member of SDA Church. "My plea to the Government is not to prosecute my son because what he did was a mental case. Brian is sick and what he needs is proper psychiatric care. Taking him to court is subjecting him to more anguish," the father pleaded. JKUAT chief corporate communications officer Dr Hindzano Ngonyo confirmed to
The Standard
that the institution was aware of Brian's condition and that he had been receiving psychological help. "He was among the students who were being attended to by our university staff from the counselling unit," said Dr Ngonyo. Monday's incident was the second time State House guards opened fire on an intruder. State House security officials explained that an intruder has to jump over the fence since it is virtually impossible to access the grounds from any of the several gates without authorisation. For instance, Gate A is used by the President, his deputy, foreign dignitaries and other VIPs. Gate B is used only by police within the precincts. It is also seen as an emergency exit. Gate D is used by State House staff, the public and media. But entry is restricted and nobody is allowed to take photographs outside the residence.