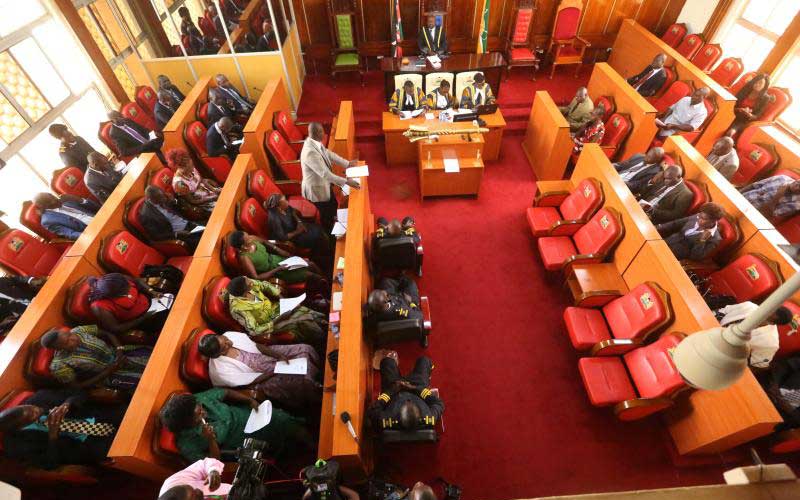 Nyanza
Last month, the County assembly suspended the MCA over claims of gross misconduct.
Residents of South East Alego in Siaya County now want Orange Democratic Movement (ODM) party and the Judiciary to intervene on the stalemate between MCA Joseph Mboha and the County Assembly. The residents argued that their ward had missed out on representation at the assembly for the past two months over the stalemate that has since led to the second suspension of the MCA. The residents who were addressing the media in Karemo Hall in South East ward accused the Speaker George Okode of malice and attempts to frustrate the MCA representing them. "As residents of South East ward, we condemn the acts of the Speaker. We have a right to representation but seems like he is determined to frustrate him. It is hardly a week since the court lifted his suspension only for the assembly to suspend him again. We now want the party to step in and the Courts to help us understand why the assembly has disobeyed their order, "claimed a resident, Chris Dondo.
SEE ALSO: ODM seeks to oust Ledama from powerful Senate post
Vacate office
A second petition seeking MCA Mboha to vacate office was brought to the attention of the house on May 7, 2019. The petitioners; Sylvester Owuor, Michael Onyuowre, Shadrack Sewe, Nicholas Rajula and Francis Owino in their petition claimed that MCA Mboha had frequently been absent from plenary sittings. The petitioners said that they had faced serious consequences due to the absenteeism of their representative from the Assembly including missing out on budgetary discussions and considerations. The five petitioners in their prayers to the Assembly asked that the South East Alego seat be declared vacant.
SEE ALSO: ODM leaders' fury at Uhuru raises queries on handshake
The MCAs adopted a report by the Powers and Privileges Committee that recommended the MCA be suspended from the Assembly and allow for investigations and determination on the allegations made against him. The MCA according to the report is expected to appear before the Powers and Privileges committee within 10 days. Today, the residents insisted that they will have a counter-petition to the Assembly on the five petitioners to request for evidence on public participation, signatures and all meetings held on their sub-location approving the petition they had taken to the assembly. Last month, the County assembly suspended the MCA over claims of gross misconduct. The MCA had filed a petition to the High Court on May 25, 2019, under a certificate of urgency, prompting the court to temporarily lift his suspension.
SEE ALSO: Suleiman Dori: From selling charcoal to Mheshimiwa
The court also stopped the Powers and Privileges Committee from hearing the case where he was accused of Gross misconduct.