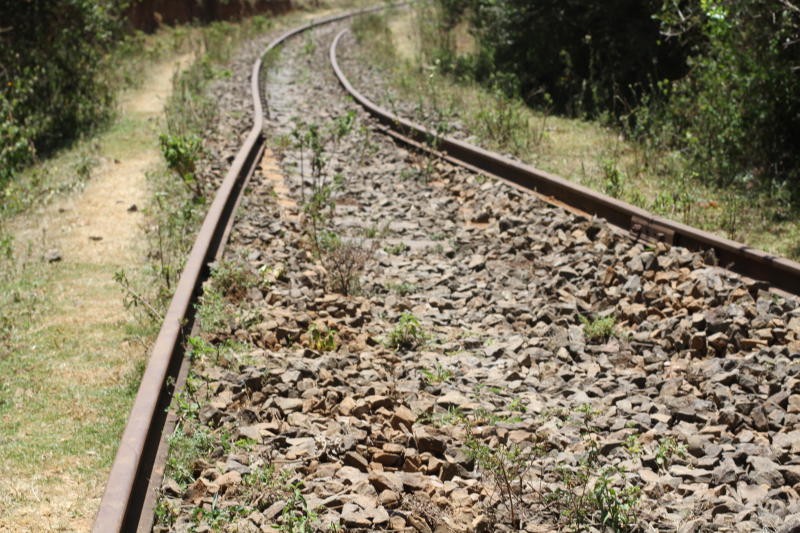 The gods have nothing to do with the Lunatic's Express journey to its premature deathbed. Interviews with former Kenya Railway workers paint a picture of a premeditated demise plotted long before the monolithic parastatal started its descent into a nightmare in 1989. The onslaught against the steel snake had started much earlier for in May 1969, EN Gakuo, then general manager of East Africa Railways and Harbours had warned that roads were offering railways unhealthy competition. Gakuo, President Uhuru Kenyatta's father-in-law, had written in his 1969 Annual Report, "...road competition in Kenya continued unabated. Railways earning were 26,270,000 Sterling pounds (about Sh3.14 billion) while expenditure was 27,113,000."
SEE ALSO: Hope for KR pensioners as firm withdraws Sh26b land suit
Road competition
In Gakuo's estimation, problems facing the sector were partly caused by road competition worsened by uneconomic rates and tariffs fixed by the three East African governments. Gakuo was the first African General manager for EARH. And exactly 50 years after Gakuo's warning, Kenya Railways Corporation (KRC) has announced that it will be charging children from the age of three adult fares (Sh1,000) economy class and Sh3,000 first class along the Mombasa-Nairobi route. Prior to the increase, parents with children aged between 3-11 years were paying half the adult rates. The announcement came last weekend, only a few days after Uhuru's government announced that it was going to rehabilitate the metre-gauge rail between Naivasha and Kisumu. This is after it shelved plans to extend the Standard Gauge Railway (SGR) from Naivasha to Kisumu due to lack of finances.
SEE ALSO: Kenya Railways target Sh370.4m yearly profit in Nairobi-Nanyuki refurbished line
Coincidences aside, former railway workers told Sunday Standard of the telltale signs of some powerful forces plotting the parastatal's death. The signs of trouble, according to a retired train engineer and driver, Kariuki Kiniti, started with a smear campaign in late 1980s against KRC meant to demonstrate that it was ineffective. "The onslaught intensified after a train accident in April, 1989 in Aianapkoi which left 13 passengers dead and more than 200 others injured. From that time, the Managing Director, J Mimano, was a marked man," Kiniti, 51, says Two weeks later, another accident killed 20 passengers in Londiani. Some insiders saw this as sabotage. The government formed a commission of inquiry and appointed University of Nairobi engineering don Jeremiah Musuva to lead the probe. Predictably, Mimano was kicked out of the corporation and his position of Managing Director scrapped. In his place, Musuva was appointed and made executive chairman.
SEE ALSO: Nairobi-Nanyuki railway line test run
When he took over, Musuva initiated a series of cost-cutting measures which made him unpopular and to date, some workers believe contributed to the decline of KRC. One of his most unpopular decisions was the scrapping of the drivers' caboose (coach occupied by drivers as they waited for their shift). Initially, the Mombasa-Nairobi train was manned by four drivers and their assistants who worked on four-hour shift during the 20-hour-journey. KRC argued that maintaining the extra drivers with food supplies was costly and directed them to work non-stop. "To ensure we did not take breaks, Sh40 was deducted from a driver for every minute he delayed the train. Nobody wanted to lose his pay even though this brought a lot of fatigue," Kimiti adds. Four guards posted at Athi River at Ngai Ndeithia to monitor the river and warn train drivers when there were floods were removed in November 1992. Their removal coincided with a month-long heavy downpour, culminating with the floods which occasioned one on the country's train disaster. On January 31, 1993, the driver in charge of the train heading from Mombasa to Nairobi was warned by his colleague to wait for the floods to subside before he attempted to cross the river. The driver was apprehensive that any delay would earn him the wrath of his bosses in Nairobi and cost him a salary deduction. He argued that it would be difficult to convince Nairobi that the rains were heavy enough to justify the delay. The driver and his assistant defied the odds, took their chances but to their horror found the bridge had been swept away by the raging floods. They were among the over 300 people who drowned after the train was swept away. Although the disaster was written off as "an Act of God", railway workers were bitter that so many lives had been lost in an accident which could have been avoided. In 1976, at least 19 people had died in a train crash which had occurred at the same spot. There were complains that few repairs had been done on the bridge since it was constructed in 1898.
Musuva fires back
When told that most his juniors held him responsible for the collapse of the railway, Musuva disagreed. He brushed off the concerns as baseless speculations. "This is not true. It is just speculation. I left the KRC in 1996 when it was very strong. The railway was operational and profitable. There is no way I can be held responsible for its collapse," explained the former executive chairman. Hamdan Harub Bakhiet, who dedicated 26 years of his life as locomotive driver, inspector and trainer, believes the railway was set up for failure. He says he quit KRC to become a consultant in Mozambique and Sierra Leone before finally settling as a real estate developer. "When I joined the railway in 1982 as a trainee driver, it was a giant with a workforce of 24,000. It was one of the biggest employers and I was proud to be working there," Bakhiet said. At the time the track was well maintained and Bakhiet could drive his train with 25 coaches full of passengers from Mombasa to Nairobi in 12 hours, at a maximum speed of 70 kilometers per hour. So good was the truck that some drivers intimate how they would at times cruise at a speed of 100km per hour, although this was beyond the legally allowed limit. However, by the time Bakhiet voluntarily retired in 2011, the trucks were so bad that it was taking a train 18 hours to reach Mombasa, while the number of locomotives had drastically reduced to 50, from a high of more than 200. "Today, the situation is pathetic. It takes about 18 hours to cover the distance between Mombasa and Mtito Andei. This means that it will take about 36 hours for a train to reach Nairobi," he said. Bakheit, who still has his special train pass which in the golden days allowed him and his family to travel first class anywhere in Kenya, is not eager to use the medium gauge rail.
'Health risk'
"I have never boarded a train in Kenya since I retired. The metre gauge train is dangerous and health risk because the tracks are not well maintained, the coaches are dirty and overcrowded," says the veteran. His colleague Kimiti, who resides a stones throw away from Imara Daima railway station, also says he cannot ride the train. He describes it as too risky and he lives in daily fear of train disaster. "It is too slow and dangerous because the trucks are now lying on soil as the ballast is gone and the sleepers are rotten. The trains are not maintained properly," he said. Although by 1989 KRC was still experiencing some problems, it had 219 engines and an estimated 8,000 wagons for cargo and freight. During this period, there were 58 trains running daily, each hauling 1,000 tones of cargo to and from Mombasa. Statistics from the organisation show that at its peak, it was operating only four passenger trains between Mombasa and Nairobi. It was around this time (1989) that 10 new trains (94 class) were bought from US's General Electric. This fleet was added to 26 others which had been bought in 1970s and were categorized as 93 class. There were another 15 trains which had been sourced from Canada as well as a fleet of 35 bought in 1960s from Britain. Before transiting to diesel-powered locomotives, the Kenya Uganda railway possessed one of the world's heaviest steamship which was 215 tones, compared to the newer models which weighed 100 tones. During this period, EARH offered seamless transportation of goods. It operated four ferry vessels where goods were offloaded from the train onto a steamship in Kisumu for onward transmission to Tanzania. The final nail to the coffin of the railway sector in Kenya was hammered by the concessioning of KRC to South Africa's Rift Valley Railways in 2006. This led to mass lay off of workers and increased vandalism.