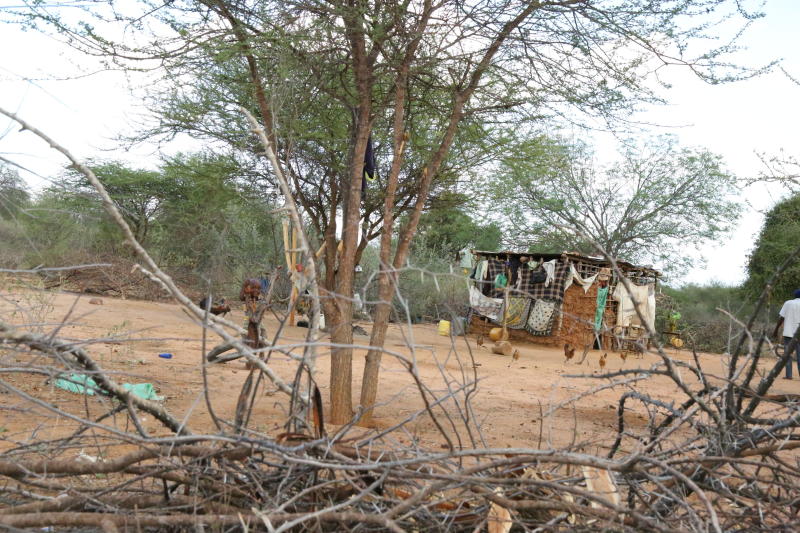 For the last one month, Kavata Matie from Wimwaa village in Kitui East Sub-county has been spending nights in a makeshift structure, 12 kilometres away from her home after it was raided by camel herdsmen. Matie said the herders, suspected to be Somali, struck her home at midnight and pulled down three houses and a granary before taking away everything, including food and money. The same night, the raiders also invaded several other homesteads in both Wimwaa and Kalulini villages and torched houses, prompting locals to flee. "It was terrifying, we had to run for our lives. We walked through the night looking for a place to settle," said the mother of four.
SEE ALSO: Ngilu loses bid to stop MCAs from debating her impeachment
Her children, who attended Kinanie Primary School, have since dropped out. Matie is among at least 30 other families who have been internally displaced by banditry attacks near the border between Kitui and Tana River counties. A visit by
Saturday Standard
revealed that the displaced have been forced to erect makeshift structures inside a forest where they brave deplorable conditions and harsh weather. Tabitha Munyalo, another victim said life in the bush is cruel and they have to contend with little access to clean water and toilets. "For over one month, I have lived in this makeshift structure together with my eight children. We are suffering, we have nothing, no food," she said. Area Chief Samuel Kimanzi acknowledged that a section of locals had fled their homes fearing attacks from the camel herders who have over the years reigned terror on locals.
SEE ALSO: Kalonzo cause of my woes, says Ngilu
"It is true that some have left their homes to camp in the bush. The security team is doing everything possible to restore calm," he said. Mutito Deputy County Commissioner Micah Ondoro however seemed to downplay the insecurity, saying the situation was not as bad as was being reported. "We are closely monitoring the situation; the sub-county police commander and his officers are on the ground patrolling the area," he said. Kitui East MP Nimrod Mbai lamented that incursions from the armed herders from North Eastern Kenya were disrupting locals' lives. "It is sad that Kenyans have to spend nights in the cold just because the national government cannot guarantee security," said Mbai. Last week, Eastern Regional Commissioner Isaiah Nakoru and his Coast region counterpart John Elungata held a peace meeting at Ukasi, Mwingi Central, where they proposed that a committee of elders from the two counties be set up to take charge of water and pasture resources.
SEE ALSO: Ngilu lawyers kicked out as ouster bid gets messy
This proposal was however shot down by Ngomeni and Ukasi residents, who demanded that the herders be disarmed and driven back to their places of origin. Majority are said to originate from Garissa, Wajir and Mandera counties, with thousands of camels and cattle.
[email protected]