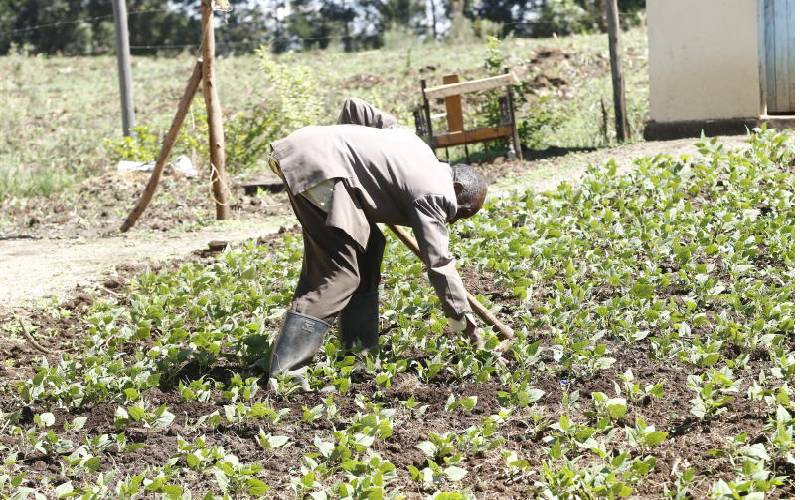 Nairobi
Three months after moving in, Macharia and his children are grateful for new lease of life.
February 28 marked the turning point for Joseph Macharia and his family. It was on this day that Mr Macharia and his six children moved out of their semi-permanent iron sheet structure at Unfolding Glory Ministries Church in Teachers Estate, Nakuru, to a two-bedroom house. The new house, located in Kabatini, Bahati Constituency, had been constructed by well-wishers through President Uhuru Kenyatta and initially gifted to a resident, Damaris Wambui, whose son had recited a poem before the President years earlier. Ms Wambui, however, rejected the house, prompting the Government to find another beneficiary.
SEE ALSO: Nairobi's new cycle lanes, walkways prompt 'Uhuru and Raila' night visit
"Whenever I get into the house, I always recall the chief's voice saying that I had been selected to get the house and the plot. I never dreamed that I would own such a property," said Macharia, in reference to the call that was made to break the good news. Nearly three months later, Macharia's life and that of his family have taken a complete turn. When The Standard team arrived at the home yesterday, Macharia's face lit up in a broad smile, as he welcomed us to his home that now has more dignity and privacy compared to his earlier abode. The team found him weeding some of the crops he had planted on every available space in the compound. "I planted these beans a few weeks ago after the rains started and they are doing well. The land is fertile and we have enough rain. I already have seedlings for various vegetables that I want to inter-crop here," he said, as he ushered us inside the house.
SEE ALSO: Noble projects that are yet to see light of day
The two-bedroom house has a well-furnished kitchen, modern furniture and is connected to clean water supply from a community project. Macharia's three disabled children have since been transferred to Muriundu Primary School.
New school
"The children are much comfortable here. There is room for them to move around the house on their wheelchairs. Their new school is also closer to home, which has eased my burden," he said. Since the rains began to fall, Macharia has been a busy man, especially due to the kindness of his neighbours who call on him whenever farm jobs are available.
SEE ALSO: Plastics ban on beaches and national parks laudable
"Although the jobs don't come by daily, I am grateful to the surrounding community. They have been very supportive and whenever there is a job they link me up. This way I am able to support my family," he said. His son, Michael Njuru, has also been enrolled for the monthly Sh2,000 cash transfer for the disabled. The family also received a new wheelchair from the National Council for Persons With Disabilities (NCPWD). The NCPWD Executive Director Mohammed Gabbow said that more help will come to the family next week. "We promised Macharia a motorised tricycle, which we shall deliver to them next week. A second child from the family is also in the process of being enrolled for the cash transfer programme for the disabled," said Mr Gabbow. Macharia's 20-year-old daughter Rahab Njoki, who completed secondary school last year, is equally elated to be living in their new home.
SEE ALSO: Angry Uhuru reads riot act to Ruto allies, demands respect
"I used to keep to myself whenever I wasn't at school. Here I have found a new lease of life. I no longer fear having friends visit our home, unlike before. They have helped me to open my mind," said Ms Njoki. Macharia added that he was yet to communicate with his wife after she deserted him more than a year ago. The father of six, while grateful to have a shelter with his six children, recalled a difficult time in his life. "I had no job and with three disabled children I was unable to comfortably provide for the family. It was then that the church housed my family and myself within its compound," said Macharia. The family of seven at the time was living in a single iron sheet room. The room served as the kitchen, living room and bedroom for all, leaving no space for his disabled children who used wheelchairs.