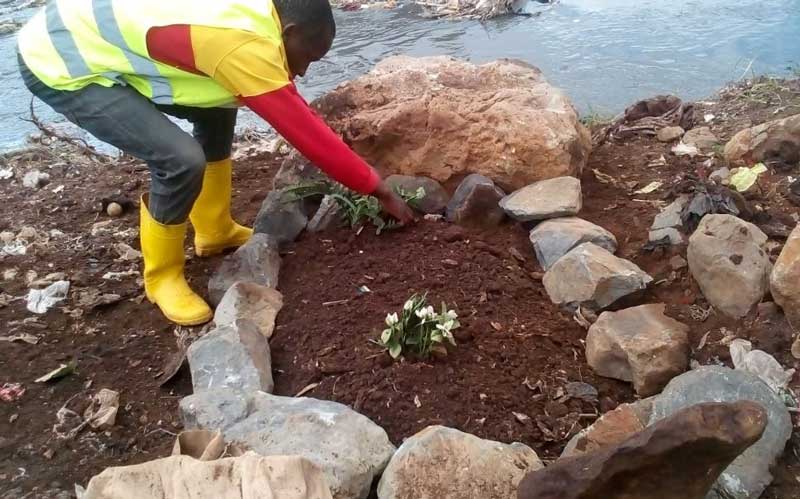 Nairobi
Cleaners say one of the kids was breathing faintly, but died before they could get to a hospital.
The Ng'arisha Jiji Initiative team in Korogocho today retrieved two bodies of children suspected to be twins. The number of dead infants retrieved from Nairobi River, since the Ngarisha Jiji Initiative kicked off is has risen to eight. According to Fredrick Okinda, the chairperson of the Komb-Green Solutions in Korogocho, his team retrieved the bodies of the two kids wrapped in a polythene bag. "Today morning, as my team was preparing to start cleaning part of the Nairobi River in Korogocho, we found two bodies of kids wrapped in a polythene bag. We believe the two children must be twins," said Okinda.
SEE ALSO: Infant's body recovered from ongoing clean-up of Nairobi River
Still breathing
He said one of the children was breathing faintly, but died before they could rush to the nearest hospital. "It is saddening that since we started cleaning the Nairobi River, we have retrieved at least eight bodies of infants. We believe that some of these unregistered clinics have been procuring abortions and dumping the bodies in the river," said Okinda. He urged the national government should intervene in the matter. Since the Ngarisha Jiji Initiative was launched by Nairobi Governor Mike Sonko late last year, at least four bodies of adults and eight infants have been retrieved from different rivers within Nairobi. The Ngarisha Jiji Initiative entails unblocking the sewer lines, clearing mounds of garbage, landscaping (beautification) and promoting responsible garbage disposal. The clean-up is also focused on restoring Nairobi River and its tributaries including Ngong, Mathare, Mbagathi, Kirichwa Kubwa and Kirichwa Ndogo among others. Nairobi River, Ngong River and some small tributaries that join these two main rivers were being used by criminals to dump bodies. Last week, Sonko asked the police to move swiftly and investigate mysterious instances of bodies being retrieved from the rivers in Nairobi. The Governor said this issue should not be taken lightly as several youth are being murdered and their bodies dumped in the river to conceal evidence. He added that some hospital could also be procuring abortions the kids are dumped into the rivers. "We now want the police officers to intervene and investigate this matter. This is a worrying trend, my teams have been retrieving dead bodies from different locations within our rivers," said Sonko. Last month, Sonko ordered the Nairobi Inspectorate Department to arrest individuals and industrial firms polluting Nairobi rover and its tributaries. The Governor also ordered county officials to close down industrial firms which discharge wastes into Nairobi River.