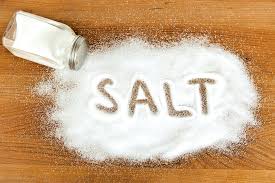 There was drama in Mai Mahiu after a lorry ferrying salt from Mombasa to Western Kenya was involved in an accident spilling the products. Members of the public scrambled for the product as has been the norm during accidents before dumping it after realizing that it was salt. The lorry that was heading downhill along the Limuru-Mai Mahiu road lost controlled and landed in to a ditch near Italian Catholic church with the driver and the passenger escaping unscathed.
SEE ALSO: Machakos dawn accident claims 5 lives, scores injured
A witness Joseph Njoroge said that tens of residents had carted away tens of the well packed salt before realizing what it was. "On realizing that what they had looted was salt which is worthless many dumped it by the roadside before police moved in to control the situation," he said.