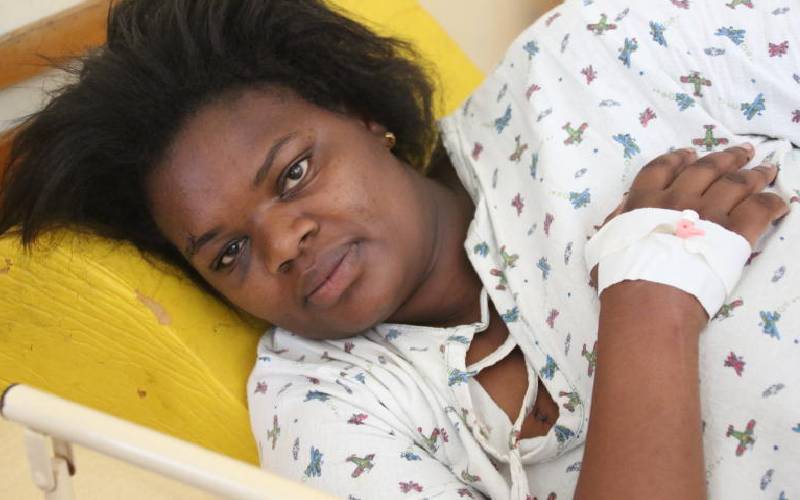 As Peninah Wangechi lay in her hospital bed, she acknowledged that it was a miracle she was still alive.
The 30-year-old woman, who was recuperating after being stabbed 17 times, told The Standard that her husband was responsible for her injuries.
For the past seven years, she claimed, her marriage to Samuel Ndirangu, with whom she has three children, has been a living hell.
"He has threatened to kill me many times, but I have never taken him seriously," she said.
On Tuesday last week, Wangechi said, a family friend called her and Ndirangu for a meeting to try and resolve their marital problems.
Two days later, at around midnight, Wangechi said they engaged in another bitter quarrel. This time it was about money. Ndirangu was demanding that she quit her clerical job at a local savings and credit co-operative.
"I never took the threats seriously but this time he took my phone and switched it off. He then went to the kitchen, grabbed a knife and stabbed me as I screamed for help," she said.
Some neighbours responded to Wangechi's distress calls and took her to hospital where doctors battled to save her life.
Ndirangu later surrendered himself to officers at Karatina Police Station. He told the officers that he had killed his wife.
Hospital Medical Superintendent Benson Ngari said Wangechi lost a lot of blood, but was lucky because no major organ was punctured.
She underwent an X-ray to establish the severity of the stab wounds, which were found to be between one and two centimetres. Luckily, she also did not have blood in her chest cavity.
"We received the patient on April 11 at 1am. She had stab wounds all over the body. We stitched 10 wounds on her back, three on her left arm and four on her chest," said Dr Ngari.
The Standard also visited Ndirangu at the same hospital where he had been taken by police. Despite our efforts to interview him for his side of the story, he refused to talk to us.
Karatina OCPD James Baraza said the suspect would be detained for one week as investigations continue.
"We will take him to court once we have a clear picture of what happened," said Mr Baraza.