Editorial
It could also manage costs for optimum results by doing away with non-profitable, expensive routes.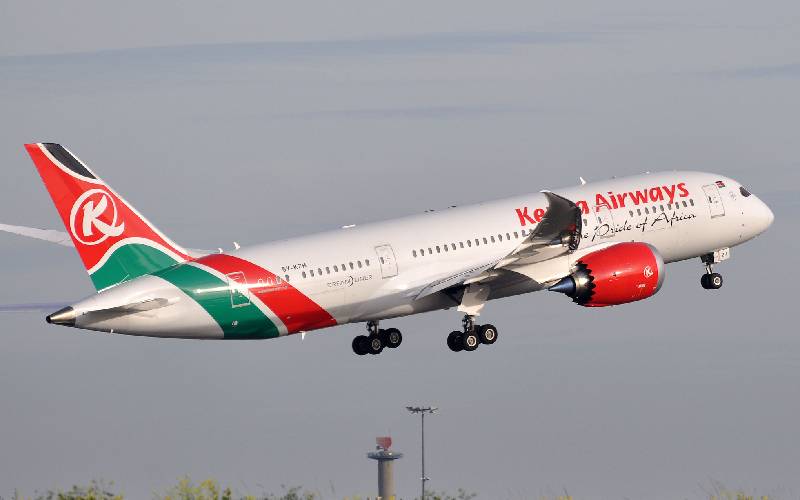 After a lot of hue and cry over a proposed takeover of Kenya Airports Authority by the struggling Kenya Airways, the government beat a hasty retreat last week and said it would explore other means to keep the airline afloat. Under the deal, KQ was to operate, maintain and develop JKIA for 30 years under a Privately Initiated Investment Proposal. This proposal attracted many questions than answers. When Michael Joseph — a corporate titan of no mean repute — was wheeled in as chairman and Sebastian Mikosz, a successful airline operator was tapped as CEO in 2017, jittery investors and long-suffering passengers were reassured, momentarily. There had been a lot of hand-wringing as KQ posted massive losses and sunk deeper into debt.
SEE ALSO: KQ wins big in lengthy row with lobby over pilots' sacking
Yet looking back nearly two years later, that was akin to rearranging the Titanic after it hit the iceberg as it crossed the Atlantic. Evidently, there was so much work to be done. There must have been a lot of hand-wringing as the duo tried all the tricks to free the airline from the stranglehold of a Sh200 billion debt. And nothing, short of a takeover, a debt relief or a massive recapitalisation would get the airline out of the woods. Perhaps that informed the decision to craft the takeover bid. Quite surprisingly, it was an indebted KQ that was seeking to take over a more profitable entity. As far as we are concerned — and there are many of us — the takeover bid did not make any compelling business sense. Besides the KAA takeover, some of the proposals mooted include the buyout of KLM and banks whose debt was turned into equity. Now that that has been shelved, there ought to be quick measures to get the airline out of the rut.
SEE ALSO: Emirates resumes continental passenger flights
Yet there are low hanging fruits. For a start, KQ needs to harmonise its relations with its employees, not just with the pilots and the cabin crew members. KQ's Achilles heel has been disgruntled employees, among them engineering crew and grounds staff. Employees are the face of any organization. You win or lose with your employees. They ought to feel they are part of the whole. Frequent notices of industrial action erode the confidence in a brand. KQ should also recognise that the customer is king — unnecessary and regular delays caused by human inefficiencies and mechanical hiccups put off the customer. The latest incident was on Saturday's flight from Kisumu where the customers declined to board a plane after disembarking for a mechanical check-up. Even though the issue was fixed, the passengers refused to board the plane. In the end, the airline picked up unnecessary hotel and accommodation bills. Worst of all, its flight to New York on Saturday was delayed by 31 minutes. Those who operate planes will tell you that a plane on the tarmac is a wasted resource. Planes should be up flying all the time. The less time spent on the tarmac, the better. Yet this is frequent with the national airline. It could also manage costs for optimum results by doing away with non-profitable, expensive routes. In the long term, government with a majority shareholding of 48.9 per cent stake remains the majority shareholder. Many expect that the government will step in to rescue the struggling airline.
SEE ALSO: Kenya Airways to fly Kenyans from China this weekend
Recapitalisation remains a viable option. It could inject more capital. Alternatively, it could propose a rights issue. KQ is a strong brand and its shares will surely be snapped up by the current crop of shareholders. KQ will also need to forge new alliances that enhance its competitiveness and do away with what aviation experts have termed "unholy alliances". Last week's unveiling of an alliance with America's Delta Airlines was a step in the right direction that will transform the Nairobi-New York route. Even though KQ is part of the Sky Team through KLM, the venture with Delta is truly transformative because not all those who fly the New York-Nairobi route are residents of New York. They will love something that reduces the headache of booking connecting flights and the tedious check-in processes. There is light at the end of the tunnel. Yet it is entirely up to KQ's stakeholders to take the route that guarantees its survival and long term profitability. Taking over Kenya Airports Authority, as this newspaper put before, was not one of those.