Politics
The fund is administered by the registrar of political parties.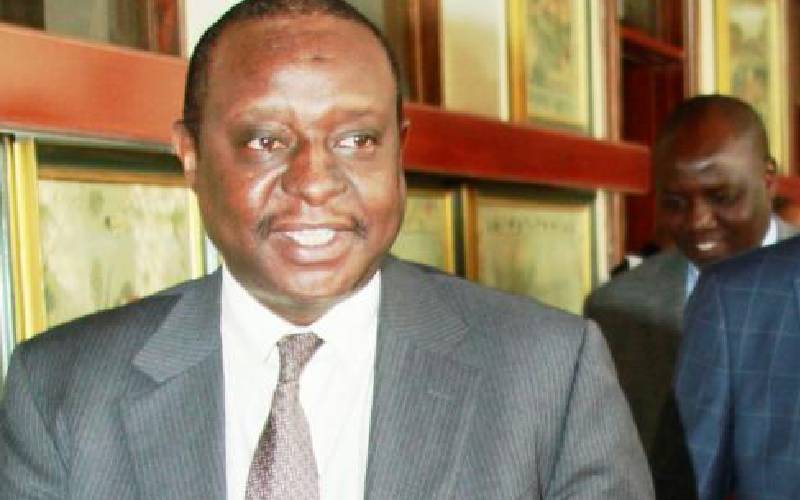 Jubilee Party and ODM are owed Sh10 billion by the State but Treasury wants the law amended, arguing the country cannot afford to splash such huge amounts on parties given other pressing needs. The Political Parties Act enacted in 2011 earmarks at least 0.3 per cent of the revenue collected by the national government - which currently translates to about Sh3 billion - for parties. However, Treasury has only released a fraction of the figure since 2013. Treasury has been allocating parties only Sh371 million each financial year, from 2015.
SEE ALSO: Senators Omanga, Prengei face Jubilee disciplinary committee
Last year, ODM received Sh120 million instead of the Sh1 billion it says it was entitled to, while Jubilee got Sh200 million instead of Sh1.8 billion. ODM says it is owed Sh6 billion in arrears while the ruling party, Jubilee, which gets the lion's share, is owed much more. Treasury Cabinet Secretary Henry Rotich (pictured) says they have disbursed what is feasible to the parties and that the provisions of the Act in its current form "cannot be implemented without adversely affecting operations of national and county governments." Rotich explains that after settling mandatory expenditures like salaries, pension and debt service among other non-discretionary expenditure, "the balance of the funds is not enough to adequately finance other government programmes." "In this regard we are proposing amendments to the Act to ensure sustainable funding model to the political parties," Rotich told Parliament last week in response to a question on why parties had not received funding as stipulated under the law.
SEE ALSO: Rush to open institutions is ill-advised, ministry told
According to Jubilee and ODM secretary generals Raphael Tuju and Edwin Sifuna respectively, Treasury owes them billions in arrears.
Critical operations
Despite Article 92 (f) of the Constitution which established the Political Parties Fund, prescribing how each of the parties needs to access the money, Treasury is slow to do so. Sifuna told
The Standard
yesterday that they have been left wondering why Treasury is reluctant to give them the money to run party affairs. "The registrar owes ODM alone Sh6 billion from the enactment of the Political Parties Act 2011. She has been giving us Sh120 million which only accounts for about 10 per cent of what we are to be given," says Sifuna. The fund is administered by the registrar of political parties.
SEE ALSO: Jubilee makes changes to key Senate teams
He claims that critical operations of ODM have stalled due to either delayed or poor funding. Sifuna cited the just-concluded twin by-elections in Ugenya and Embakasi South which they lost, saying that lack of sufficient funding contributed to their loss. "We didn't have enough money to hold primaries or to mount door-to-door campaigns or hold big rallies in the just-concluded Embakasi South and Ugenya mini-polls," he says. Tuju says the ruling outfit received Sh200 million in the last financial year and not the Sh1.8 billion that it was entitled to. "If we go with the percentage provided for, we would have received Sh1.8 billion but we only received Sh200 million," he says.
SEE ALSO: Murkomen rejects new Senate post, tells Jubilee to keep it
While acknowledging that parties are not properly funded, Tuju says the discussion at the moment should be how taxpayers' money given to parties is spent. "It is true political parties are not properly funded but before we talk about more money, the discussion should be about policy framework and control measures on how these funds are used by parties," says Tuju He adds: "But we are not exerting pressure on the National Treasury to give us the money. Neither are we piling pressure on Parliament yet we have the numbers." Besides State funding, parties have other revenue streams like membership fee and fee from candidates seeking to contest during party primaries. But as things stand, there is still no clear guideline or policy to spell what the parties should do with the money or how to use it to run offices.
SEE ALSO: Ruto allies removed from Senate committee chairmanships
"We need to come up with clear laws whether parties need to hire and pay staff from the kitty in all the branch offices and other civic duties the offices need to do," says Tuju. Again, while recognising that the law requires all parties to have national representation or presence in all the 47 counties, some parties don't even have branch offices.
These billions
"We must ask as parties, too, what is it that we want to do with these billions we are asking for. Is it to build roads or for bench-marking trips abroad?" he poses. Tuju says that if the parties are given the billions, it will raise a lot of audit queries. Under the Political Parties Act, only parties with at least five per cent of the total votes cast at the preceding General Election qualify for Government financing. This means that out of the 59 registered political parties in the country, only three meet the criteria for funding.