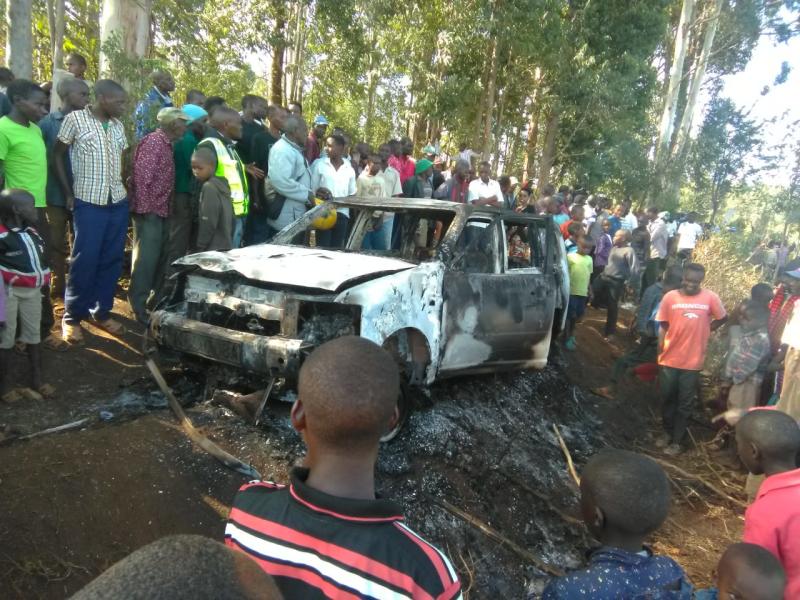 Rift Valley
Residents of Kapsaos, Kericho, lynch three suspected thieves; County Police Commander James Mugera says hunt for two others ongoing
Three suspected thieves have been lynched in Kapsaos village in Ainamoi constituency and their getaway vehicle torched. Kericho County Police Commander James Mugera said the trio who were among a group of five, were cornered at 3Am as they were attempting to break into the house of one Joshua Mosonik. "The suspects who were five in number had arrived at the scene aboard a Toyota Probox registration No KCC 768A, white in color. They were immediately surrounded by the villagers who were attracted by distress calls from their intended victim's house," he said. Mugera, said the suspects tried to escape on foot but angry villagers cornered three of them, lynching them.
SEE ALSO: Suspect arrested, two escape after Nakuru town fruit joint robbery
"However, two of the suspects, one identified as Omari, managed to escape into the darkness," he said. Mugera added that the angry villagers turned their anger at the suspects' getaway vehicle and torched it. The bodies of the three suspects which had deep cut wounds and partly burnt were moved to the Kericho District Hospital Mortuary. The three are yet to be identified. "An inquest file has been opened and efforts being made to trace and arrest the said Omari and his accomplice," said Mugera. The lynching of the suspects comes five days after unknown criminals struck Melit residential estate and killed Bernard Langat, his wife Khadija Langat and their five-year-old baby boy.