Commentary
Loving the community goes in tandem with being patriotic.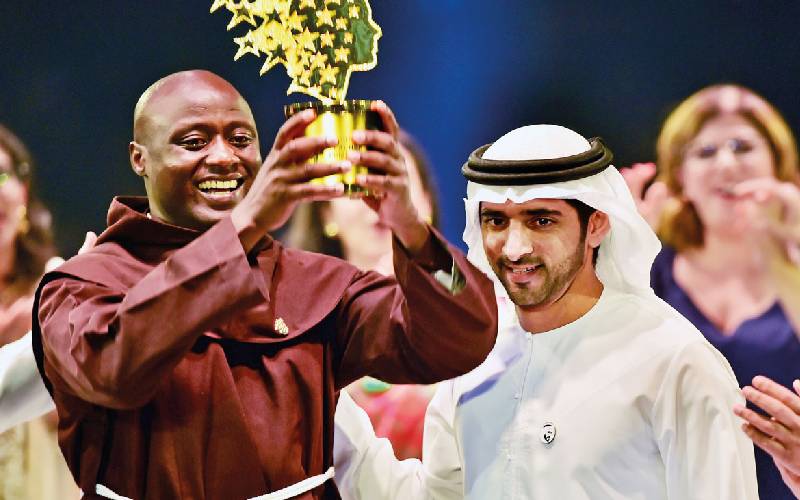 Peter Tabichi's (pictured) choice for the award of the Global Teacher award for 2019 must have been one of the best news from Africa. There is hunger in Turkana. A cyclone in southern Africa which killed 700 lives and left in its trail monumental destruction to property. These calamities were coming against the background of other bad news from the 'Dark Continent' where loss of life and destruction of property has become its middle name. The rest of the world never associates our continent with good things. More so where issues touching on professionalism is concerned. Nobody in his or her wildest imagination in the West expects an African to defeat professionals from that region in a contest where professionalism is the be-all and end-all in the contest. This is what Mr Tabichi did. He managed to win the equivalent of the Nobel award for the teaching profession becoming the pioneer male recipient of the award since its inauguration.
Unglamorous profession?
For once a teacher has been acknowledged for the great work they do. Teachers and their profession have been looked down upon by society. Rarely do we hear our children say they want to become teachers when they grow up. Interestingly, most of our teachers took up the profession as a last resort; they did not attain the cut-off marks for the other disciplines and ended up as teachers by default. But what does Mr Tabichi's victory tell us about the seemingly unglamorous profession? Should teachers be the rug upon which society should clean its muddy feet? Mr Tabichi is a member of the Franciscan Society- a Catholic order-which believes in serving the community selflessly. They deny themselves the comfort of the world in order to uplift the lives of the needy and downtrodden. As an individual Peter has been guided by a philosophy of life which is value laden. From a very early stage he had chosen the path of serving society. He chose teaching because of its direct contribution to the betterment of humanity. To him there were no schisms in what makes a human being. There was no tribe, clan or sex distinctions. We are all equal. That is why he chose to serve in a backwater school from where his good work has been noticed. Consider this in the light of the hue and cry that greets the delocalization policy undertaken by the TSC. What makes a good teacher from what we have been told on the life of Mr Tabichi and what we learn in teacher education? First and foremost is that a teacher should be guided by values. One should be disciplined, respectful, diligent, honest and truthful. We should also love our learners and the community where we work. Besides, in whatever we do we should be humble and do our best. Loving the community goes in tandem with being patriotic. Keriko Day secondary school in Njoro is a sub county school. Like many such schools it lacks physical facilities and other resources.This demands that a teacher thinks outside the box to guide learners in the teaching exercise. This calls for critical thinking and creativity. Many of us would not want to take such an arduous step be it in our work or life. What we are quick at giving is lamentation about the lack of resources. Never do we engage our faculties to improvise. Some of us would even be quick at saying that those under our care as a teacher are not our children. We do this in utter ignorance of the fact that as teachers we, are 'Loco parents' Mr Tabichi realized this and thus came up with solution to the problem of infrastructure and inadequate instructional resources. Where we work is our community. We should not detach ourselves from the people because we feel we don't belong to the area. It is important to contribute to the well-being of the community in a way that our ability can allow us. Through education and otherwise we can help change our community. This is what Mr,Tabichi and his colleagues have been doing to the Pwani community in Nakuru County. AS leaders they have been at the forefront of mobilizing the community in promoting education and other aspects of community development. This teacher has brought the spirit of resilience and endurance to its apogee. Teaching and community work demands good communication. We should be able to pass our messages concisely, clearly and meaningfully in order to be understood by our audience. Mr Tabichi has been using a language both learners and other members of the community can comprehend. This is what is expected of every teacher. We need to strive to guide the current generation into attaining the 21st century skills whose essence stride the world of life and work today. Human beings are complex by nature. This is why they require knowledge in a plethora of disciplines to deal with. A multi-disciplinary approach is required to address our current challenges. Luckily for teacher Tabichi he had all these. He even went out of his way to impart the digital skills to learners in a school with a single computer. The life of Mr Tabichi at school and away from school shows one who plans well his activity. Everything he does is done meticulously and in a clock work precision. No wonder Keriko students could manage to defeat well-endowed schools in the science contests. This shows the mettle that our hero is made of. He is able to inspire and challenge the learner in equal measure. Our country requires many Tabichis to be able to move it to the next level. How many Kenyans would put such an amount of money to develop a community far away from where they were born? It requires a heart and mind that is at the self-actualization level in Maslow's hierarchy of needs. We should be encouraged to do well for our country by being committed to our duties. Let us also reflect on the status of infrastructure in our schools and how we reward hard work and talent as a society. Dr Ndaloh is a curriculum, instruction and educational media expert at Moi University
[email protected]