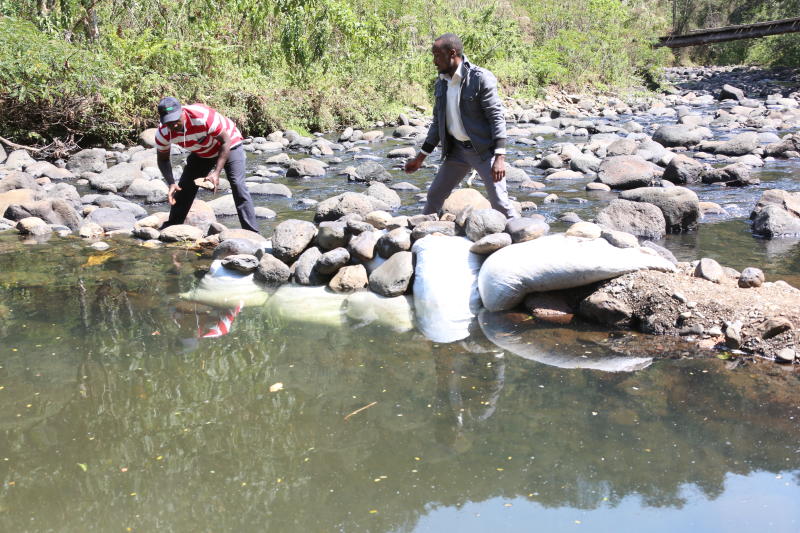 Two companies are fighting for the control of a river; an ailing giant on its death bed due to the ongoing dry spell.
The conflict pitting Kenya Tea Development Agency (KTDA), which has developed a Sh1.6 billion hydro-power project on Gura River, and Tetu Aberdare Water and Sanitation Company Limited (Teawasco) has been going on for a while.
Teawasco draws water from Gura River and supplies it to more than 80,000 households in Tetu constituency.
Both KTDA and Teawasco have developed abstractions on the river which are separated by only a distance of 1,500m.
KTDA's project was started in 2012 and completed in 2015. It currently supplies power to Gathuthi, Gitugi, Iria-ini and Chinga tea factories.
According to KDTA chairman Peter Kanyago, previously, each of the tea factories used to part with Sh40 million in power bills annually.
The cost has now gone down to Sh15 million for each of them.
They collectively use slightly less than 2.8 megawatts of power, with the project producing 5.8 megawatts. The rest is injected into the national grid.
Teawasco, through its General Manager Symon Wambugu Wanjau, now claims that it has no water to supply to its customers because of the KTDA project.
Mr Wanjau said the dwindling levels of water in Gura River have not helped the situation. His company has been unable to meet demand for water in Tetu for the past three months.
Stage demonstration
"KTDA's abstraction cuts across the whole river from right to left," said Wanjau. Leaving very little water to flow downstream where our intake has been put up."
Wanjau explained that some residents of Tetu had gone without water for three months, and were threatening to stage a demonstration.
Wanjau cited an incident on February 24, when the Teawasco intake was completely shut down. "There was not even a single drop of water in the pipes."
According to the Teawasco boss, his firm currently can process only 3,000 cubic metres of water a day.
That is against a demand of 5,620 cubic metres
"Our customers were all over social media complaining about the shortage. Their threats of staging a demonstration are real," said Wanjau.
Speaking to The Standard yesterday, Mr Kanyago denied Teawasco's claims that KTDA's abstraction was interfering with the water firm's activities.
"We relocated the company's abstraction last year," said Kanyago.