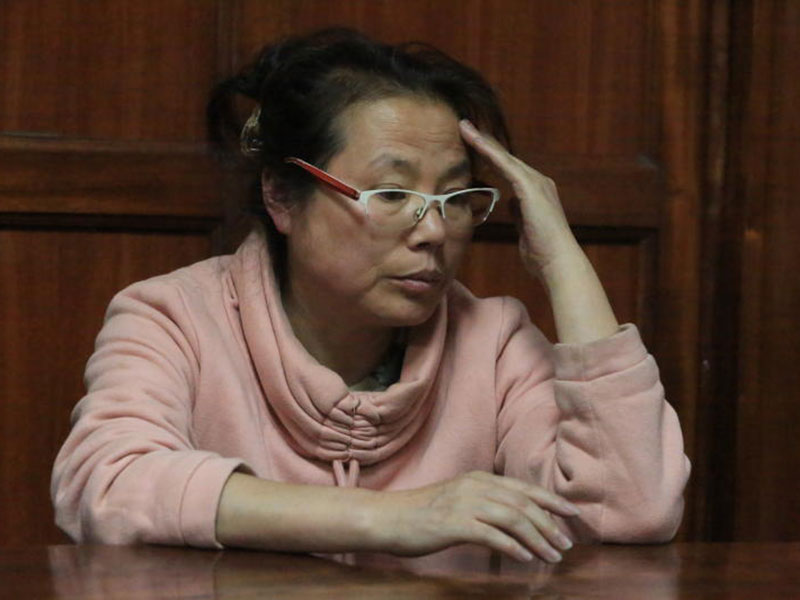 One of the Chinese accused of illegally possessing game trophies has been arraigned in court and charged with selling food under poor sanitary conditions. Shangli Yan (pictured) was yesterday charged with preparing for sale 65kg of red meat, 65kg of uncleaned fish, raw chicken, pork and crab fish, 95kg of assorted white and red meat in poor sanitary conditions and without certification from public health office. Yan also faced a second count of selling food in poor hygienic conditions at her Aberdare Court house on the Kayawe road in Kilimani area, Nairobi. She was charged with preparing five cartons of canned fish for sale in unhygienic condition.
SEE ALSO: China and Africa: Work with solidarity, overcome difficulty, build community of shared future
Yan denied the two counts. Opposing Yan's release on bond, State prosecutor Kennedy Panyako further applied for the exhibits to be destroyed after the court had seen the same and documented the evidence. The court heard that a stench emanating from the house of the accused prompted her neighbours to alert authorities. Defence lawyers led by Assa Nyakundi and David Ayuo told the court police stormed Yan's house and seized meat from freezers, and in the process, created a false picture that his client was selling dog meat. "It is totally wrong to create this kind of a picture," Mr Nyakundi told the court .
SEE ALSO: U.S.-China tech war bigger risk than coronavirus, EU chamber chief says
Milimani Principal Magistrate Kennedy Cheruiyot allowed Yan to collect her personal effects from her car that had been impounded by the police. She was also allowed to view the meat in question before it could be destroyed. Her bail application will be heard on January 14. Earlier, Yan and three others had been arraigned in another Milimani court where police's plea to hold them for five days as they completed investigations into suspected possession of wildlife trophies were granted. Yesterday, the court visited the scene where the suspects were arrested.
SEE ALSO: Chinese nationals under probe over unauthorised Covid-19 tests in Murang'a