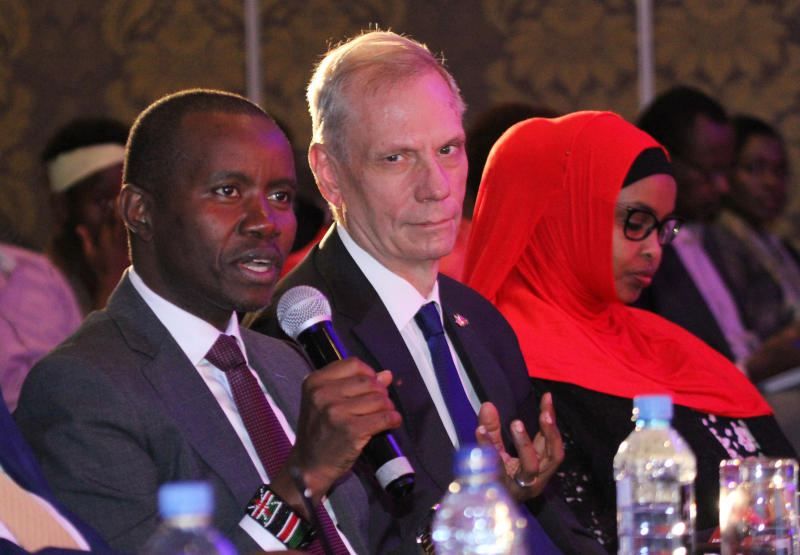 Media industry players have been challenged to tackle the surge of fake news in Kenya to win trust of news consumers. Guest speakers, media owners, editors, and journalists had met to review the state of Kenya's media industry at the Kenya Editors Guild First Annual Editors' Convention held in Nairobi. The United States Ambassador to Kenya Robert Godec set the pace of the discussion on the subject when said fake news was undermining democracy and eroding confidence in the media. He said fake news was a threat throughout the world and asked journalists to stick to their role of reporting accurately to curb the menace.
SEE ALSO: Twitter labels Trump's tweet as 'manipulated media'
"Journalists have the responsibility to report facts accurately, to refrain from inciting hate, and to conduct themselves ethically and impartially," the ambassador said. The US ambassador said despite the challenge of fake news, the media was still required to play a critical role of guarding and promoting democracy. "Simply put, democracy will wither without a free and independent media. For voters in a democracy to play their role and express their will, they must have accurate and impartial information available," he said. He asked media owners to incorporate women in the industry saying it was necessary to ensure there was full representation of voices and stories of all Kenyans. "The US Embassy will fund a Women in Media mentorship programme for a second year, connecting experienced female journalists, editors, and producers with young women just starting in the profession," he promised, saying the programme was already running in Nairobi.
SEE ALSO: Why return of fake front pages should worry us
Kenya Editors' Guild chairman Churchill Otieno said the media would win confidence of its consumers through credible and compelling stories. Standard Group Editorial Director Joseph Odindo said it was in the interest of all media houses to tackle fake news without limiting the emerging alternative avenues of storytelling, especially on digital platforms. "There is a problem of deluge of falsehood but mainstream media should not limit those seeking to fill the "information" vacuum," said Odindo, who was one of the guest speakers. Information Communication and Technology (ICT) Cabinet Secretary Joe Mucheru, who launched the convention, said they were 70 registered cases related to inaccurate, biased, sensational and misleading reporting reported to the Media Council of Kenya. He said among the cases, there was "failure to report accurately even after interviews are held or failure to verify information and authenticate facts before running to press."
SEE ALSO: Trump's executive order targets political bias at Twitter and Facebook