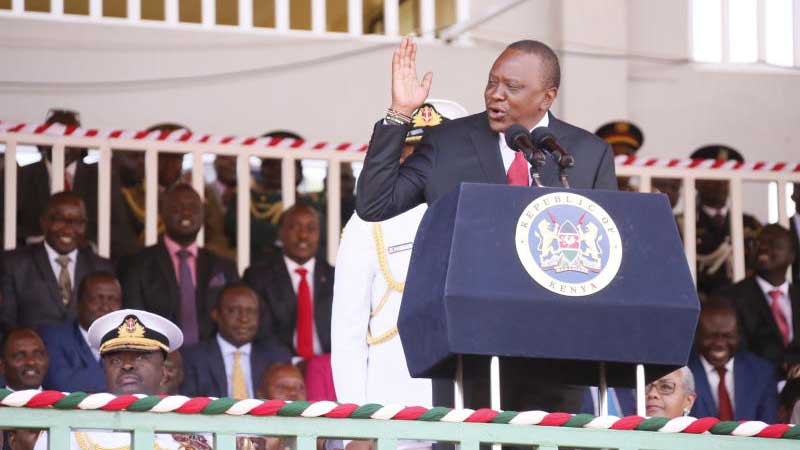 Kenya
Speech Uhuru Kenyatta during the 9th Mashujaa Day celebrations on Saturday,October,2018
Your Excellency Hage Geingob, President of the Republic of Namibia, Your Excellency, Monica Geingob, First Lady of the Republic of Namibia, Distinguished Ladies and Gentlemen,
My fellow Kenyans,
SEE ALSO: Likely winners and losers in Cabinet purge
Let me begin by thanking my Brother President Geingob for visiting our country and taking time to celebrate "Mashujaa Day" with us. Welcome to Western Kenya. It is my great pleasure to be with you today as we mark Mashujaa Day, a National Day to reflect upon, appreciate and celebrate Kenya's sung and unsung heroes and heroines. I am also delighted to deliver my 6th Mashujaa Day Address at this state-of-the-art venue in Kakamega County. Bukhungu Stadium was recently renovated by the County Government of Kakamega to the standards we are enjoying today. It is slated for expansion, and is a proud testimony of the benefits of devolution. Mashujaa Day has been with us since the dawn of our Republic. It is a day to remember, reflect upon and celebrate all examples of Kenyan heroism, great and small, well known or unknown by all except the few who witness it. To those men and women whose efforts and sacrifices gifted us independence from colonial rule and imperialism, and those who advanced the cause of democracy, and those who uphold the rule of law, on behalf of the entire Nation I express our eternal gratitude.
SEE ALSO: City sheriff dwarfs Sonko with a huge Sh28 billion budget
Fellow Kenyans, Kenyan heroes whose acts of sacrifice, service and generosity for the sake of others, remind us again and again what is best in our nation and humanity. Our heroes come from all occupations and from every part of our country, but among the greatest of our heroes and heroines are those who run towards danger while most of us flee it: our men and women in uniform. The Kenya Defence Forces are serving us bravely in Somalia as part of an African Union force that is fighting terrorists to bring peace to our region. We recognize the hardships of war, and the sacrifices, in blood and life, that they have made; we thank them for their service. We are staying the course in Somalia alongside our region, and the International Community, because we know that as long as Somalia is under assault from terrorists, Kenya will not be safe. We celebrate the men and women of the National Police Service, who often undertake their duty at great personal risk. Among them are brave officers who are protecting villages and border towns from brutal criminality.
SEE ALSO: Uhuru's few options as country takes stock, three months on
We thank them and recognize that we must improve their conditions of service if our gratitude as a nation is to take concrete shape. It is for this reason that my Administration has undertaken the boldest police reforms in a generation. We thank the game rangers of the Kenya Wildlife Service, who, day and night, risk their lives to protect the beautiful and often endangered animals that live in our national parks and game reserves. For the men and women lured into terrorism against our people and our nation, I advise them to read the history of Kenyans to understand that Kenya cannot be defeated because its children fought hard for our freedom, and we will never allow it to be destroyed by any person or group. I join other Kenyans in thanking the men and women who are preventing and reversing radicalization. We recognise that they come from every walk of life: some from the security services, others in civil society, and most are friends and relatives of those targeted. Preventing and reporting radicalisation is an act of love for the individual targeted, our communities and our nation.
SEE ALSO: Report on reopening of churches, mosques handed to president as lockdown and curfew expire
Sustained prevention will require us to work together as a Nation. I, therefore, urge every county to formulate strategies, launch and implement a County Action Plan to Prevent and Counter Violent Extremism so that we can all join hands in protecting our great Nation. My Fellow Kenyans, We celebrate Kenyans who lift the banner of our nation high. Our record-shattering athletes like Eliud Kipchoge, demonstrate our talents and confidence. Our scientists and innovators such as the medical team that separated the conjoined twins, Blessing and Favour, at Kenyatta National Hospital. Our young computer specialists who have the courage to bring to life new technologies. Our entrepreneurs who bravely embark on delivering new services to Kenyans and the world. We also celebrate the millions of Kenyan workers who everyday strive to faithfully perform their responsibilities and provide for their families.