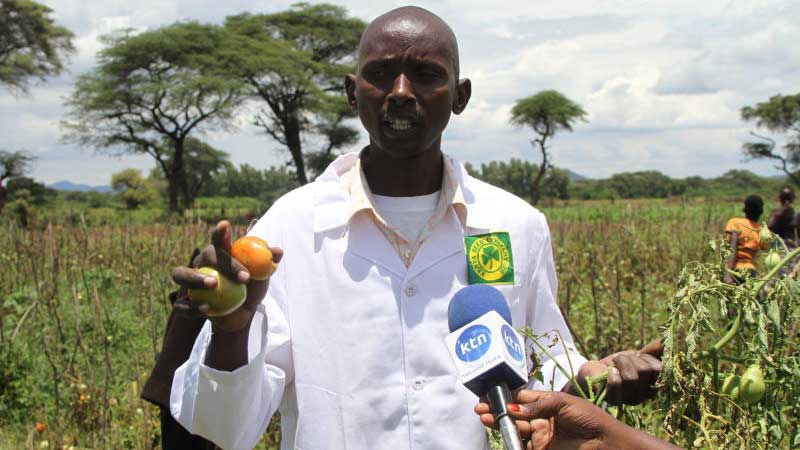 Tomato farmers in Baringo and Nakuru counties have said over-production has caused them huge losses.
They say the prevailing hot weather has led to a glut that they are have been unable to find markets for. The use of greenhouses, which protect the crop from the elements that destroy it, have also contributed to the over-supply.
Farmers who spoke to The Standard also claimed some traders were importing tomatoes from Uganda and Tanzania despite over-production in Kenya.
Martin Gathure from Gilgil sub-county added that it was unfortunate that farmers were making losses despite the high production costs due to additional taxes.
Seven years
Mr Gathure, who has been growing tomatoes for the last seven years, said he had opted to hawk his produce after failing to find a market. He sells the produce to individual consumers in Free Area on the outskirts of Nakuru town.
"Taking tomatoes to the market is a waste of time and money because most places are already flooded with the produce. I may not recover the money I used to grow the tomatoes due to lack of a market. We are not even talking about profits," said Gathure, who has seven acres under tomato production.
"I sell 10 tomatoes for Sh10 despite the cost of transporting the produce. Farmers here are demoralised, especially because of the traders who are importing tomatoes and selling them cheaply."
In local markets, a 120kg crate of tomatoes is currently selling at between Sh700 and Sh1,000. The same amount cost Sh6,000 just a few months ago.
Simon Githure from Gitwamba in Subukia sub-county, said his produce was ready for harvesting but he was worried because he had not been able to find a market.
He said he expected to fetch between Sh2,500 and Sh3,000 per crate of tomatoes but was afraid this may not happen due to lack of markets.
Taking advantage
"Middlemen are also taking advantage of the situation. Packaging tomatoes in 120kg crates instead of 70kg crates means more losses for farmers," said Mr Githure.
Samuel Gachemi from Marigat in Baringo is another farmer who has suffered losses due to the glut. He said the high costs of production had led him to the decision to quit tomato farming.
Mr Gachemi said he made the decision after local markets were flooded with tomatoes allegedly from Uganda and Tanzania.
He produced tomatoes on six acres and sold them in Nakuru and Eldoret towns.
According to Gachemi, production costs in neighbouring countries are low because low of taxation on farm inputs such as fertilisers.
"Farmers have nowhere to sell their produce because imported tomatoes are sold at lower prices. This has seriously affected us," he said.