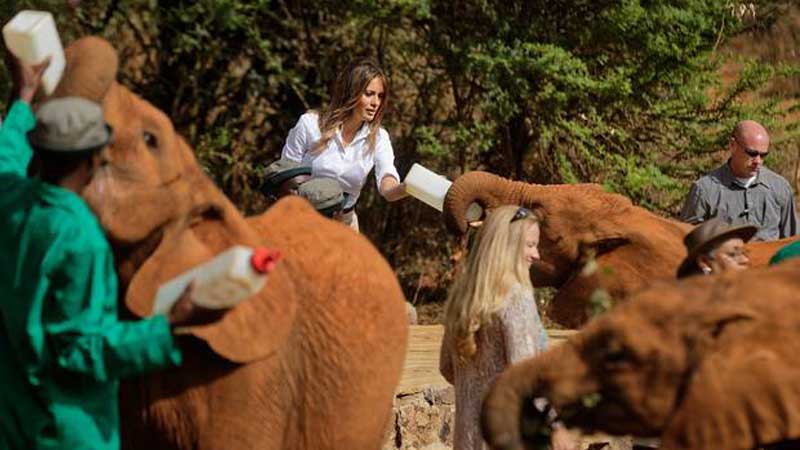 Nairobi
Melania Trump and Margaret Kenyatta visit elephant orphanage in a conservation push.
United States First Lady Melania Trump on Friday joined her Kenyan counterpart Margaret Kenyatta in feeding a baby elephant at the David Sheldrick Wildlife Trust. Melania is on a solo African tour,
which started on Tuesday
. Her first stop was Accra, Ghana, after which she flew to Malawi on Thursday. Her tour will end with a stop at Cairo after Kenya. Stroking one and feeding formula to a second baby elephant, her trip to Kenya sealed her stand in conservation efforts. Donning leather boots and a white tucked-in shirt, the U.S. First Lady chuckled after one of the baby elephants moved suddenly, causing her to almost lose her footing. The U.S. First Lady's tour seeks to expound on education, conservation, children's welfare and tourism.
SEE ALSO: Man who splashed Sh41m in 10 months loses property
During her Malawi stop, Melania championed her 'Be Best' campaign, which focuses on children's welfare. 'Be Best' seems to resonate with Kenyatta's Beyond Zero, which champions for children and mothers' health. CBS News reported Melania saying, "Meeting those children and understanding their different way of life is why I wanted to travel here. I was heartened to spend time with the students, and was honored to donate school supplies and soccer balls." Apart from the safari, Melania will take in a children's performance at the Kenya Cultural Centre as well as visit an orphanage.
Conservation
She is expected to go on a quick safari later on Friday as she seeks more information on East Africa's plans to conserve wildlife, especially rhinos and elephants.
SEE ALSO: Closure of Masai Mara leaves wildlife vulnerable
Melania's visit comes in the backdrop of UK Prince William's Kenya stop, where he too called for renewed conservation efforts. The Duke of Cambridge met President Uhuru Kenyatta at State House, Nairobi, on September 30. Prince William briefed Uhuru on the Illegal Wildlife Trade Conference scheduled for London on October 11-12. The high profile visits come at a time when Kenya has renewed efforts to boost wildlife conservation. However, on Tuesday, local media reported that an agency allowed Kenya to withdraw from the process to monitor illegal ivory trade, a decision that angered conservationists.