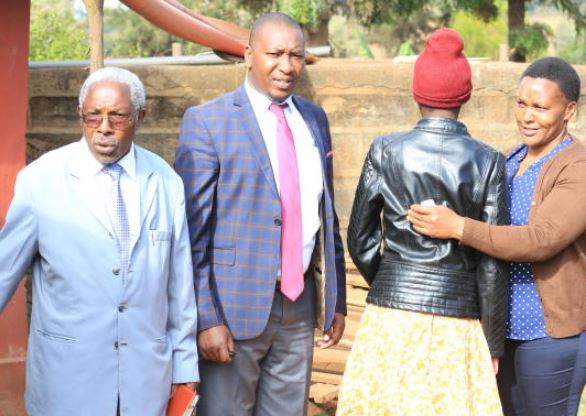 Kenya
Shock as the 16-year-old is found in a neighbour's house, a stone's throw away from her home.
A 16-year-old girl who has been missing for eight months, prompting her relatives to search for her far and wide, was yesterday found locked up in a house by their next-door neighbour in Ndeiya, Kiambu County. The girl was rescued from the house by villagers after one noticed strange goings-on in the mud-walled structure. The neighbour had on several occasions seen the owner of the house leave early in the morning carrying a bucket. When the villagers wrenched open the door, the teenager revealed that the bucket had served as her toilet for the eight months. Neighbours who rescued the girl on Tuesday night were shocked at the state they found her in.
SEE ALSO: Father, son jailed for 20 and 15 years respectively for raping neighbour
"We had to break down the door when we suspected that the girl was inside the house. I went for a hammer and with the help of my neighbours, broke into the house," Earnest Mbugua said. He added that inside the dimly lit house they found the girl seated on a bed.
Very surprised
"She looked frail and emaciated. She could not talk and looked very surprised," Mr Mbugua said. Joel Nganga said he was hit by a pungent smell when they forced their way into the house. His torch revealed two buckets full of human waste, indicating that the girl was never allowed outside.
SEE ALSO: Police caught on video sexually assaulting a man records statement
"We carried the girl and handed her over to some women who were waiting outside. They carried her to her family's compound a few metres away," he said. The girl was received by her distraught mother and siblings as neighbours broke into song and dance to celebrate what they termed a miracle. Hundreds of other neighbours trooped into the compound to see her. The girl said for the entire period she was in the house, she was unable to distinguish between day and night because she was kept in darkness. But her world was even darker - she was given only one meal every day, which the man brought when he returned late in the night. The man then would sexually molest her.
SEE ALSO: Man accuses wife of cheating, puts pepper and superglue in her private parts
Used buckets
"I used buckets as my toilet inside the house. The man would come late at night with some food for me and after I had eaten, he would rape me. He would then leave the house very early the next day," she said. Those who rescued her suspect the food she was given was usually laced with sedatives. The girl, who looked dazed, said she had no idea how she could free herself from the captivity. She said the man had abducted her by tricking her into helping him carry a bag of potatoes. But on reaching the house, she said, she only remembers being hit by a strong chemical-like smell before she passed out.
SEE ALSO: Olympics star slapped with life ban over alleged sexual assault
"I was standing near the door and I was hit by a very strong smell; I felt dizzy and collapsed," she said. The teenager was still wearing her school uniform when the man tricked her to accompany him to the house. The girl was first taken to Ndeiya Health Centre where it was discovered that she was pregnant. The health workers there advised her mother to take her to a better-equipped facility for further examination. Yesterday, the girl was taken to a hospital in Nairobi accompanied by her mother, grandmother and local MCA Gideon Gitau. Doctors were still examining her by the time of going to press.
SEE ALSO: Man who defiled two girls in forest jailed for life
Carren Gichana, a professional counsellor who also accompanied the girl to the hospital, said the minor looked disturbed. The girl's mother, a widow, said she had lost all hope of ever seeing her daughter alive again after the long search. "I have cried enough, mourned enough, until today when this ray of hope has come," she said, adding that she is still shocked that her neighbour could commit such a crime. "I can't believe that I was only a few metres away from my daughter's prison. I think I even engaged her captor almost every day," she said, sobbing. The mother, who has spent almost all her resources on the search, even placed numerous advertisements on vernacular radio stations, asking for help to find her daughter. She thanked the neighbours for their help. Neighbours described the suspect, a casual labourer, as a man of few words who rarely interacted with people. Police yesterday said the public should have sought their help in freeing the girl and apprehending the suspect. "Had the public involved us the suspect would have been arrested very easily. However, police are making every effort to bring him to book," said an officer.