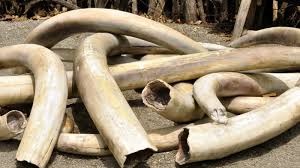 Myanmar, a Southeast Asian nation of more than 100 ethnic groups, bordering India, Bangladesh, China, Laos and Thailand is now the new growing market for ivory trade. This is according to a new report by ivory trade specialists Lucy Vigne and the late Esmond Martin, which shows that one town in particular in Myanmar, Mong La - a frontier town in the notorious Golden Triangle on the border of China - has experienced a 'prolific growth' in ivory trading. Myanmar is facing an unprecedented elephant-skinning epidemic that threatens to wipe out its wild elephant population in a matter of years. The number of new ivory items seen for sale in the town grew by 63 per cent in three years, and now accounts for over a third of the ivory seen in the country.
SEE ALSO: 'Little Chef' charms Myanmar with lockdown cooking classes
This new study shows the scale of the challenge that remains for elephants in the face of the ivory trade. The report 'Myanmar's Growing Illegal Ivory Trade with China', a publication by Save the Elephants(STE) released on Tuesday 2, 2018 in Nairobi recounts how Chinese visitors smuggle worked ivory from Mong La back home with little concern about getting caught. "This ivory has often come up the Mekong River into the lawless eastern periphery of Myanmar where it is for sale in both retail and bulk. The wholesale price for African raw ivory in late 2017 in the Golden Triangle region has remained stable at about USD 770(Sh77,000) to USD 800(Sh80,000) per kg since late 2015,"said Ms Vigne, the lead author of the report. Myanmar is said to have the largest captive, or 'domestic', elephant population in the world with over 5,000 individuals. However, the "Traders there say that the internal ivory trade is legal for trimmed domestic elephant tusk tips and from licensed animals that have died, and operate accordingly," added Vigne. This is going on despite trading in the tusks of the remaining wild elephants in Myanmar – numbering perhaps 2,000 – is acknowledged to be illegal. The ivory from captive elephants is used for local carving and retail sale especially in Mandalay and Yangon. Their tusks are also sold wholesale in Mandalay to Chinese traders, who smuggle them across the China border in contravention of the existing international ivory trade ban. Traders reported that 90 per cent of buyers were Chinese wishing to smuggle the ivory home, as also found by the same authors in market surveys in Hong Kong (2015) and Laos (2017).In Vietnam (2016) this was estimated to be 75 per cent. "Poaching is a problem for elephants in Myanmar but the country also provides a largely unchecked conduit for illegal African ivory carved in the region to be smuggled into China, in violation of International Law. The authorities are not deterring ivory smugglers and trade in ivory and other endangered wildlife products that is running riot to meet the continued Chinese demand," said Vigne. The researchers cited five towns and cities (of eight visited) with 51 shops openly displaying 14,846 ivory items for sale. These were Mong La, Mandalay, Yangon, Tachileik and Bagan. In Mong La, ten open Chinese shops were counted, nearly all specialising in selling ivory, displaying 5,279 recently-made ivory items. According to Ian Douglas-Hamilton, founder STE, many of the DNA tests done on the ivories that have been arrested prove that most of them come from Africa. "Most of the DNA results of the ivories seized and tested at since 2006 from University of Washington Centre for Conservation Biology shows that they now come from Africa especially from DRC Congo, Tanzania with Mombasa port being the exit point. Kenya currently is doing well since the ban of ivory trading and thanked community conservancies for improving the conservation of elephants and other wildlife," said Hamilton. Hamilton is calling upon China to close its market to stop fueling demand from Myanmar and asked for more collaboration between countries and agencies involved in stopping illegal wildlife trade. The international trade in elephant ivory has been illegal since 1989 yet African elephant numbers continue to decline. In 2016 the International Union for Conservation of Nature cited ivory poaching as a primary reason for the staggering loss of around 111,000 elephants between 2005 and 2015 – leaving their dwindling total numbers at an estimated 415,000.