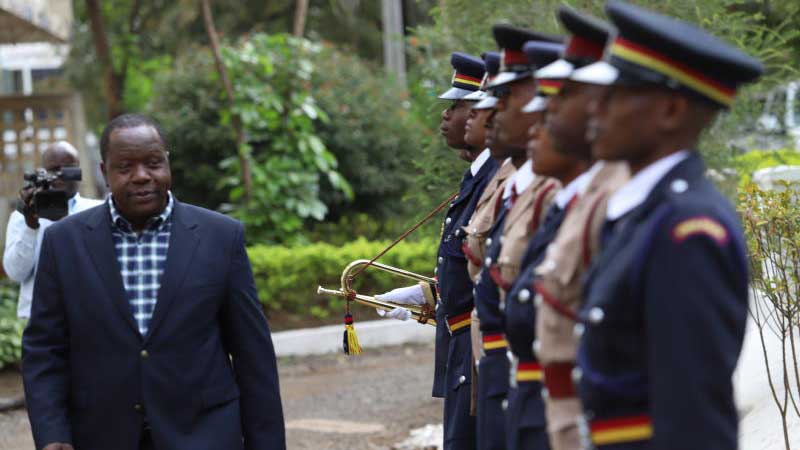 More police officers will be deployed to Lake Victoria to protect the country's territory, the Government has said. In a meeting with Nyanza regional security teams yesterday, Interior Cabinet Secretary Fred Matiang'i said his office and that of Inspector General of Police Joseph Boinnet were working on a joint report that is expected to be out by November, when the order is set to come into effect. According to Dr Matiang'i, police in Nyanza have done a commendable job and it was the turn of the Government to appreciate this by actualising reforms in the sector. "I joined the ministry in August last year when a lot was going on. We have now settled and we will soon unveil plans to intensify security in the lake," said Matiang'i.
SEE ALSO: Lake Victoria transporter bets on franchise to grow business
The CS, who was accompanied by Mr Boinnet and Interior PS Karanja Kibicho, toured the immigration office in Kisumu before holding a meeting with regional security officers led by Police Commander Lewnard Katana. Officers' morale Mr Katana brought to Matiang'i's attention the unfavourable working conditions, which he said needed to be improved in order to boost officers' morale. Among Katana's requests was expansion of the police communication system that he said only covered the town and its immediate environs, making it difficult to monitor security situations in far-flung regions. "In Kisumu, we have one OCPD handling Kisumu Central and Kisumu East sub-counties, which is quite expansive. We would be glad to have each area with its independent command," added Katana.
SEE ALSO: Kisumu is zoonotic diseases hotspot
Matiang'i admitted that he was aware of the challenges facing the police in the area, adding that the report would bring a lasting solution to the challenges. He noted that the Government would buy more vehicles to facilitate patrols and security responses, especially in rural areas, which he said had long been neglected. Matiang'i also said the issue of police housing was extensively addressed in the new report and that officers should expect the good things from his office.
Incomplete projects
"Currently we are going round the country to find out all the incomplete projects at police stations and ensuring that they are done as we evaluate how much more we need to add. I promise you that by 2022, life will never be the same again for police."