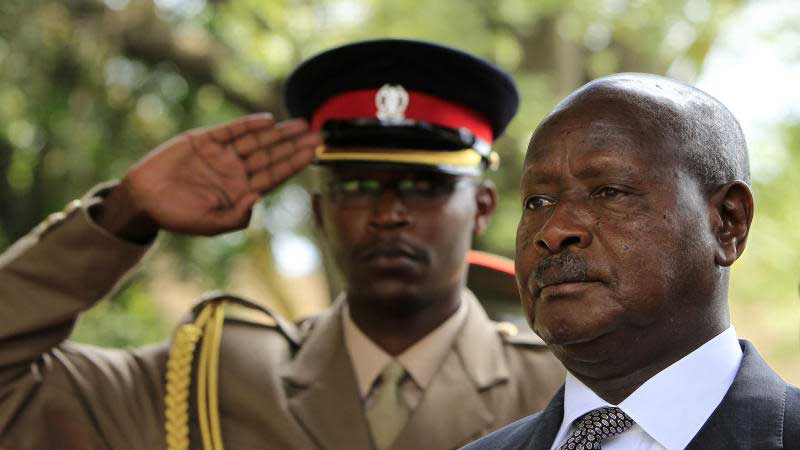 Mombasa leaders and rights groups have called for East African counties to stem what they call Ugandan President Yoweri Museveni's (pictured) dictatorial regime. Rights advocates and politicians from Mombasa on Saturday night held a vigil to demand the release of detained Kyadondo East MP Robert Kyagulanyi, popularly known as Bobi Wine, and 33 others. Haki Africa, Stretchers Youth Organisation of Mombasa and Social Justice Network of Mombasa were joined by Mvita MP Abdulswamad Nassir, Mombasa Senator Mohamed Faki and Deputy Governor William Kingi.
SEE ALSO: Farmers count loses as millers get cane from Uganda
Haki Africa Executive Director Hussein Khalid said Kenyans were justified in protesting against injustice in Uganda because "injustice anywhere is injustice everywhere". Mr Faki demanded action against Museveni, who has ruled Uganda since 1986. The 34 prisoners are facing treason charges after their arrest in Arua, after Museveni's motorcade was stoned during campaigns early this month. Mr Kyagulanyi and his co-accused were initially charged with treason and illegal weapons possession in a military court but were freed and re-arrested to face treason charges in a civilian court. They were held incommunicado and subjected to what activists believe to be inhuman conditions.
SEE ALSO: Congo declares end of Ebola outbreak in east, second deadliest in history
"The time to liberate Uganda from the clutches of Mr Museveni has come," said the Mvita MP.