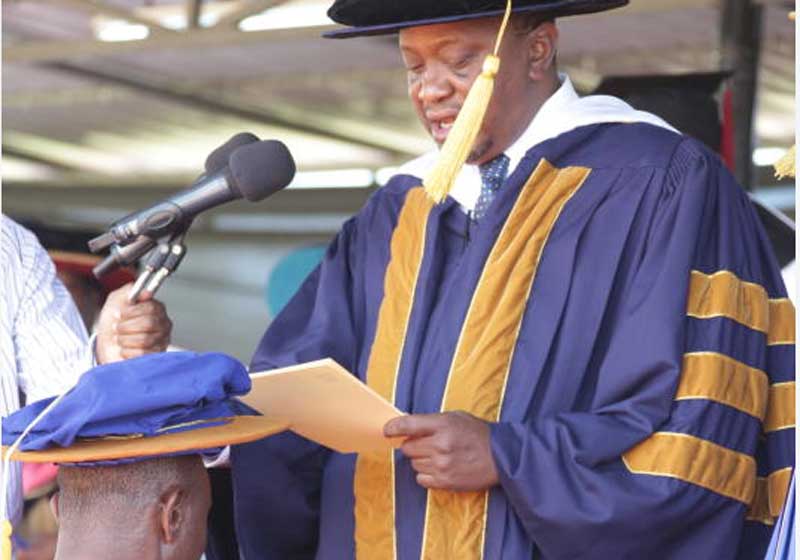 Education
In 2014, the CUE hurriedly published ambitious but unachievable targets to raise the bar of university lecturers to PhD holders.
The Commission for University Education (CUE)'s decision to defer a requirement for all lecturers to have a PhD was an act of surrender to wishful thinking that Kenya had the capacity of achieving such a feat within five years. The higher education regulator had in 2014 given local universities a five-year period to implement a rule in which all lecturers were to have doctorates by end of 2018. But as the deadline approached, then CUE chairman Chacha Nyaigotti called for a time out -- most lecturers had not even registered for the PhDs or found supervisors. Some had stagnated at dissertation proposal stages. Currently on the cross is the CUE guidelines that mandate only doctoral holders to be hired as lecturers. Holders of master's degrees, no matter years of teaching experience, research publications in peer reviewed journals, or the number of published books, could only be employed as assistant lecturers or tutorial fellows.
SEE ALSO: Varsity course revision deadline closes today
Significant barriers
There is a shared optimism in Sub-Saharan Africa on the value of increasing PhD graduates as stated in the 2015 Dakar Declaration on Revitalisation of African Higher Education. There is belief in the sub-region that a higher concentration of lecturers with the PhDs could be the necessary antidote to improve the quality of education in African universities. Unfortunately, efforts to increase high quality PhD capacity in Sub-Saharan Africa has been fraught with challenges. There are significant barriers to achieving this goal, a study, Building PhD Capacity in Sub-Saharan Africa, reveals. The study conducted jointly by the British Council, the German Academic Exchange Service and University College London Institute of Education, pinpointed shortages of academic staff, large class sizes, poor infrastructure, low quality curriculum and scarce financing. But whereas dropout rates at postgraduate level are relatively higher in Sub-Saharan Africa, researchers observed serious equity concerns with PhD study in the region. In Ethiopia, between 2000-2015, female enrollments stood at 12 per cent but only six percent graduated.
SEE ALSO: We've been banned from distributing foodstuffs to the needy – Mike Sonko
In Kenya, non-STEM disciplines accounted for 71.4 per cent of the overall PhD enrollment, with 35 per cent being in business administration. Although the country recorded a 25 per cent enrollment in STEM disciplines, most of the students were in health sciences too few in engineering and mathematics. It is also an indicator that the push to have all lecturers have PhDs is a lopsided affair, as whereas a third of enrolments are in business, science subjects account for less than five per cent each. Although countries in Sub-Saharan Africa usually take a joint stand on how to address their problems, there seems to be no common agenda on PhD capacity building, apart from a rudderless recognition of the need to improve quality of university education. South Africa has embarked on training 5,000 PhD graduates per year, a move that will ensure that 75 per cent of permanent academic staff will have had a PhD by 2030. It is the most pragmatic of the approaches. Kenya adopted a knee-jerk reaction model. In 2014, the CUE passed a regulation mandating PhD qualifications for university lectureship by 2018. A similar directive had been issued in Senegal two years earlier, while in 2015, Nigeria's National Universities Commission issued strict PhD guidelines for academic university staff intending to rise beyond senior lecturer grade.
SEE ALSO: Bill gives relief on clearance papers
Whereas in Ghana there is no official regulation, there is an implicit expectation for staff to obtain PhDs. The craze for PhDs has resulted in some lecturers adopting ludicrous academic titles. The issue is that whereas someone studying for a PhD but is yet to complete the course is simply a doctoral student or a doctoral candidate, some lecturers without PhDs now affix PhD (Ongoing), PhD (Expected), PhD in Progress. Ishmael Munene, a professor of educational research and education leadership at North Arizona University, says robust staff development programmes are almost non-existent in Sub-Saharan African. The outcome is that many countries, including Kenya, are currently incapable of training many doctoral students to occupy the vacant PhD slots or to take over from the ageing professoriate that is about to retire in the next 10 years. Consequently, lack of human resources to train doctoral students, especially in cutting edge research methods has resulted in low quality PhDs as there is a lack of staff within most African universities to provide this sort of training. With most postgraduate students financing themselves, few doctoral candidates attend international conferences to submit their research findings.
New knowledge