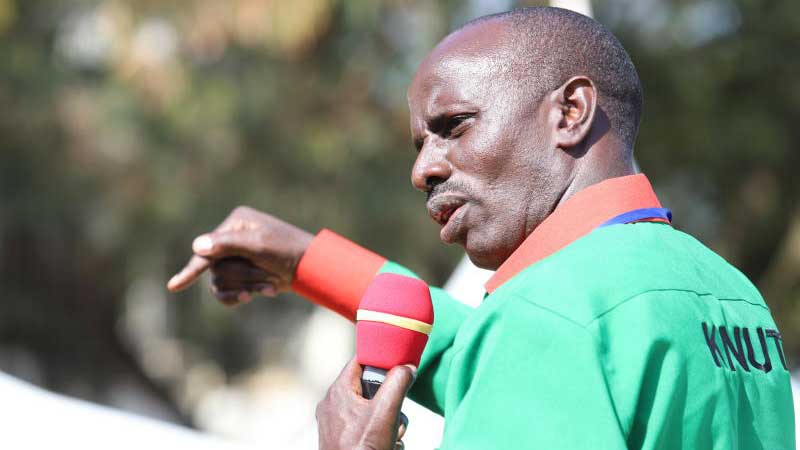 The Trade Unions Congress of Kenya (TUC-Ke) has suspended its secretary general Wilson Sossion. The Orange Democratic Movement (ODM) nominated MP has been replaced by Dr Charles Mukhwaya as the acting secretary general. Mukhwaya is the Kenya University Staff Union (KUSU) secretary general. The letter suspending Sossion, also the secretary general of Kenya National Union of Teachers (KNUT) was written on July 30.
SEE ALSO: Standard, Knut deal allows teachers to access content
"The National Executive Board (NEB) of TUC-Ke in its meeting held on July 24 reviewed administrative actions relating to your gross misconduct and show cause why letter, dated April 28, 2018 which you did not respond to refers," reads but of the letter. It further goes on to state that Sossion was suspended pursuant to the TUC-Ke constitution. "Your failure to respond to allegations of gross misconduct within the stipulated time, the NEB through a unanimous decision resolved that you be and are hereby suspended from the office of the secretary general of TUC-Ke with immediate effect," the letter reads in part. It continues: "That subsequent to that suspension you hand over all documents and properties of TUC-Ke that may be in your possession. The same to be handed over to Dr Charles Mukhwaya who has been appointed to act in that office." The letter has also been copied to the registrar of trade unions Elizabeth Gicheha. Mukhwaya confirmed that he is now the acting secretary general for TUC-Ke.
SEE ALSO: KCPE and KCSE, not ticket to heaven, postpone exams
However, efforts to reach Sossion for his comments did not bear fruit as he neither picked up our calls nor replied to sms. Sossion in May this year had to file a case to bar the registrar of trade unions, Teachers Service Commission (TSC) and Hesborn Otieno from ousting him as KNUT secretary general. This was after the union's National Executive Council (NEC) met and replaced Sossion with Hesborn Otieno as the new secretary general. But Justice Maureen Onyango of the Employment and Labour Relations Court ruled that Sossion was still the KNUT boss. "I am the lawful custodian of all the instruments of the secretary general of the teachers' union and anyone purporting that he suspended me is daydreaming. The selfish busy bodies who are saying this have committed an illegality," Sossion said then. He at the same time threatened to name those behind the wrangles at the union. "I know who is bankrolling this. If I am pushed to the wall, I will name them. I am being fought because I have stood my ground in agitating for teachers' rights," Sossion said.